Stora Enso Pharma DDSi Wireless - a new medical package offering improved opportunities for real-time adherence control.
Healthcare efficiency and patient treatment will take a major step forward when the new Stora Enso Pharma DDSi Wireless is made available to the healthcare and pharmaceutical industry at the Pharmapack 2011 exhibition and conference in Paris on 23-24 February 2011.
The Stora Enso Pharma DDSi Wireless[1] package is based on conductive ink on a carton board based blister inlay, which is connected to a cellular module embedded in the package. This enables the tracking of one pill at the time on removal from the blister, whereby data is sent to the cellular module and then forwarded wirelessly, even instantaneously if required, using GSM or GPRS cellular networks, to electronic health record systems. This allows real-time tracking and intervention by a physician and also enables physicians to make timely changes to patients' medication.
The blister inlay connected to the cellular module in the Pharma DDSi Wireless is made of environment-friendly, recyclable carton board with no metal components. The cellular module is equipped with a chargeable battery enabling up to several months of lifetime without recharging.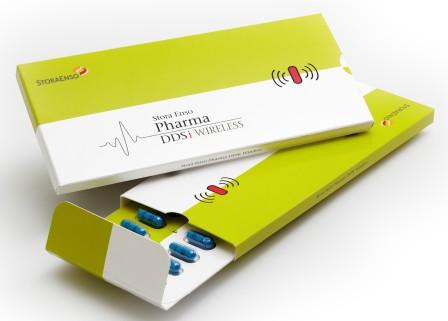 Automated real-time reminders enhance the control of prescribed medication
The principal benefits derive from the numerous possibilities that this solution provides to healthcare service providers: sending voice-call reminders or text messages (SMS) to patients, or making personal visits when important prescribed medication has not been taken in time. Patients can also elect to have the data provided to relatives, pharmacists, physicians and healthcare providers so that they can treat the patient more effectively and intervene if treatment changes are required.
How are the benefits of this new service regarded by an experienced healthcare professional? We received the following comment from Dr. Thomas Bellavia, Senior Medical Director at MDClick, a New Jersey based provider of chronic disease management and health information technology services, and former President of the New Jersey Academy of Family Physicians:
"As a family practitioner with over forty years of experience in healthcare, I am keenly aware of the importance of prescription adherence for patients. That is why I am pleased with the new Stora Enso Pharma DDSi Wireless with embedded cellular technology. This packaging innovation improves adherence control via a self-activated, wireless record of patient use that allows real-time tracking by a physician, provides timely reminders over the phone or via text messaging alerts and enables better patient-doctor communication. It is an important step in our transition to the Patient Centred Medical Home model in this new healthcare environment."
Stora Enso will be offering its intelligent blister packaging technology to partners that have an existing and established presence in the market, so that it can be used and integrated with solutions and support services providers in the area of data management, patient compliance software and related healthcare applications.