At the AMI Plastic Closure Innovations 2014 (Berlin, April 28-30) SABIC showcased two new products. The new bimodal High Density Polyethylene (HDPE) product - SABIC HDPE AX7611 – is designed to meet the specific needs of caps and closure for sparkling water and carbonated soft drinks. For the specialty caps and closure market, SABIC showcased its latest Polypropylene (PP) grade SABIC PP PHC28.
The key needs of the beverage packaging industry are focused on ensuring outstanding product safety and performance, improving cost efficiency and reducing packaging weight. These requirements drive the competitiveness of converters as well as brand owners. Comprehending these challenges and supporting the caps and closures value chain, SABIC developed SABIC HDPE AX7611. This new advanced bimodal HDPE resin combines an outstanding organoleptic performance with high process ability and improved down gauging opportunities.
SABIC HDPE AX7611 has a two times higher flow ability than standard HDPE which enables manufacturers to shorten the cycle times significantly. This property supports a more cost efficient processing by reducing the energy consumption, which benefits both converters and brand owners.
Furthermore, SABIC HDPE AX7611 exhibits an outstanding Environmental Stress Crack Resistance (ESCR). This enables manufacturers to produce durable and safe components, which prevent cracks or leakages during repeated usage by end consumers. Combining the outstanding ESCR with the superior Melt Flow Rate (MFR), SABIC HDPE AX7611 is pushing the borders of down gauging possibilities a step further. SABIC's Technical Marketing Engineer HDPE Europe, Philippe Rasquin, explains: "Creating lightweight solutions is a key challenge in this industry and SABIC HDPE AX7611 is supporting the industry to meet this challenge. This new resin includes the essential properties for manufacturers to produce caps and closures that are substantially lighter and stronger at the same time".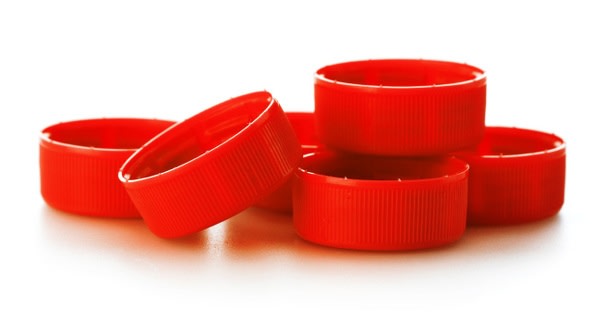 Moreover, SABIC is demonstrating its latest PP grade within its broad caps and closures portfolio. SABIC PP PHC28 is developed to meet the high safety standards of specialty caps and closures. Outstanding chemical and impact resistance are essential to for example safety caps, as packaging of hazardous chemicals and household products require caps that provide excellent sealing performance and maintains structural integrity under tough handling practices. Furthermore, SABIC PP PHC28 exhibits a combination of high MFR and modern nucleation additivation, which enables manufacturers to shorten the cycle times considerably. This can result in a more cost and energy efficient production process. Timo Latvakangas, Technical Marketing Engineer PP at SABIC, says: "SABIC is committed to supporting customers to benefit of cost saving opportunities, while maintaining superior product durability and safety".
These developments underscore once more that SABIC is strongly committed to caps and closures market. SABIC will invest continuously to support the challenges and ambitions of customers. Rolf Rehage, Segment Leader Caps & Closures Polymers at SABIC comments: "We believe that joint product and technology innovations with customers are the basis for anticipating effectively on future developments and requirements of the caps and closures value chain. SABIC is a strong provider of innovative solutions, leveraging its global platform of research and application development centres".