Krones is introducing a new, impressive bottle. With a weight of 8.8 g for a 500-ml bottle, the german company has set new standards for the world`s lightest PET container in the 0.5-l class. First exhibition of the new bottle took place at the K 2007 in Düsseldorf.
It is primarily considerations of environmental protection and cost-cutting that cause the market to demand progressively lighter PET containers. Every tenth of a gram less per bottle means enormous material and cost savings over the course of a year, economises on natural resources, and lightens the budget. Especially when standard PET can be used as the preform material. All manufacturers are attempting to meet these wishes of the bottling industry. Krones AG is currently the most successful of them, with the world-record lightweight container now on show.
The 0.5-l container is a conventional bottle with a very appealing lightweighting design. In the mouthpiece area, particularly, the development people at Krones have saved quite a lot of material. Instead of the customary approx. 3.5 g, the mouthpiece weighs a mere 1.959 g. Weight savings have been particularly boosted by very largely dispensing with the neck ring. A wall thickness of 0.1 mm, downsized by about 20 to 30 per cent. also contributes towards eight reduction.
Nonetheless, the filled record bottle permits a top-load of 33 kg, a crucial criterion for good palletising stability. With its 8.8 g, the newly developed bottle provides a weight reduction of 28 to 45 per cent compared to the usual PET containers on the market, plus comparably high savings in terms of material and costs. Because Krones has succeeded in using standard PET for this concept, instead of expensive special materials.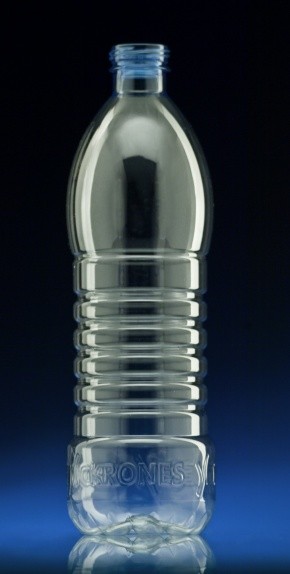 Above all: the bottle is not a laboratory prototype, but meets all the preconditions for passing through the entire value creation chain to final palletising and storage, before being delivered to the market. Krones has already booked an order for a similarly structured, neck-ring-reduced 0.6-l bottle, including a complete line.