SABIC Innovative Plastics launched new Lexan DMX polycarbonate (PC) films for portable electronics applications such as cell phone and laptop covers, palm rests, and keypads.
Lexan DMX films feature a proprietary layered construction leveraging SABIC Innovative Plastics` Lexan DMX resin for enhanced performance, aesthetics, durability, and processing to accommodate a wide range of laptop and handheld device designs. Key properties are pencil hardness rating of 1H, easy formability, high impact resistance and fabrication ease for Insert Mold Decoration (IMD) graphics.
- Electronics manufacturers have been looking in vain for a plastic film offering a full array of performance, aesthetic, and processing benefits, not just a few - said Josh Ayer, global film product manager for SABIC Innovative Plastics. - There`s been a market gap that SABIC Innovative Plastics` new Lexan DMX films have now filled. With this proprietary technology, portable device and laptop manufacturers can achieve improvements across the board, from gorgeous colors and effects to super toughness, as well as the potential for improved production yields - he adds.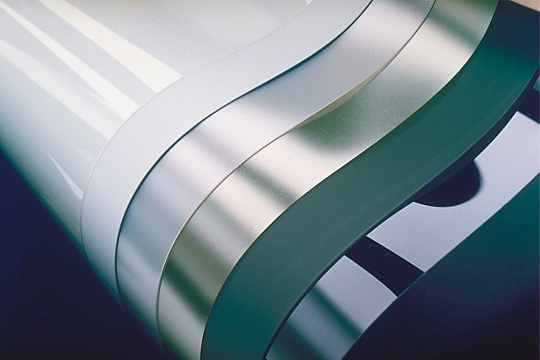 Although there are several traditional approaches to producing covers, palm rests, and other applications for portable electronics, each has significant drawbacks. Semi-curing a hard coating on PC requires special lighting, limits shelf life, and results in lower yields. Ink transfer onto a PMMA or PC substrate is not suitable for edge wraps and limits formability. Hard-coating polyethylene can result in loss of clarity and significant shrinkage on deep draw applications.
Addressing these and other challenges, SABIC Innovative Plastics` new Lexan DMX films provide the following attributes:
- Pencil hardness of 1H for improved resistance to damage from rough handling,
- ease of formability for design intricacies,
- high impact resistance for protection from drops and bumps,
- water clarity - even on deep draws - as well as vibrant colors and wet look effects,
- resistance to general chemicals and perspiration.
From a processing standpoint, SABIC Innovative Plastics` Lexan DMX films can be easily thermoformed to ?35mm draw depth, and lend themselves to IMD and printing. The development of a highly polished film with consistent stress and cap-layer uniformity plus a thermoformable masking has been critical to meet the demands of IMD print registration, multi-pass printing and fabrication.
These features allow original equipment and design manufacturers to achieve intricate designs and develop harder surfaces for their applications. Salt water and isopropanol resistance, uniform coefficient of thermal expansion and low yellowness index are other key features of Lexan DMX films that are attractive to cellphone and laptop manufacturers.