Interactive menu navigation is available via the clearly arranged TFT touch-screen colour monitor, thus considerably easing operation. Users are able to select all essential parameters for their chosen material from a pre-loaded databank. In addition, in-house formulae can be stored in a separate databank.
Once the user has clicked the granulate of his choice, ETA plus will take over automatic process control. All parameters required for the entire drying process are stored in the database. The equipment adapts – with regard to quantity, conditions, summer, winter, day or night – and proceeds with the drying process meeting all requirements in an energy-efficient manner.
To satisfy the most stringent quality requirements in production and –simultaneously – striving to keep overheads consistently low is the two-fold challenge not only confronting the plastics processing industry, but also plastics machinery manufacturers. Blending and dosing different materials to be processed is given utmost priority: Accuracy of the formulations and consistency are key to product quality, and ultimately to profitability.
Adding to Motan's know-how in the blending and dosing systems with its Graviblend and Graviplus units, the Spectrocolor G now enters the extrusion market building on the Spectrocolor V volumetric version. Motan, the global leader in materials handling for the plastics industry, expands its comprehensive product portfolio designed to cover all areas of volumetric and gravimetric materials blending and dosing.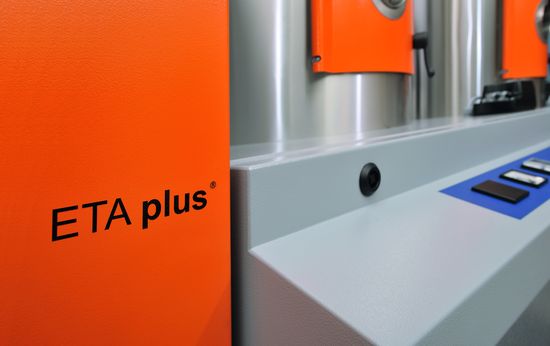 The compact Spectrocolor G of modular design for LIW (Loss-In-Weight) dosing of free-flowing granular material and regrinds affords the user a unit with an excellent price-performance ratio. Traditional application areas are flood-fed single screw and starve-fed twin screw extrusion.
This means that the entire production bandwidth, including pipes, profiles, flat film, cast film, and plastic sheet materials is thus covered. An extensive range of tests – under continuous operational conditions – confirm a consistently high dosing performance combined with a dosing constancy of up to 0.5 percent. As a consequence, maximum process dependability and reliably accurate repeatability are assured.
The Spectrocolor G is suited for the addition of six components with a respective throughput range of between 0.2 to 1200 kg/h per dosage axis. All metal parts in contact with the granulate are made of stainless steel; all weighing hoppers are equipped with glass sight slots to accommodate filling level inspection. Automatic calibration and recipe data storage for a number of mixing formulae come as standard. In order to monitor product quality, the weighed and blended quantities are constantly compared with the nominal values via feedback control.
Data exchange, data control and the networking of the LIW process data records are achieved via a standard Ethernet interface for complete material management. A small PC with a 5.7" touch-screen colour monitor communicates with Soft-SPS. By means of an optional OPC server, the Spectrocolor G technology is able to exchange data with super-ordinate BDE process management systems and data banks.