All-round success – fully insulated drying bin door is now shaped to exactly fit the drying bin – the new design reduces energy costs and increases productivity.
Plastics processors increasingly place greater importance on improved productivity and, at the same time, reducing energy consumption. The reasons are obvious, straightforward and valid: Every single kilowatt costs money, and increased performance provides the required revenues to enable further investment. Without such investments, this cycle does not work.
Motan-Colortronic has made another investment – this time in the enhancement of the LUXOR series of dryers. The drying bin access door is now rounded, aligned with the outer contour and the radius of the drying bin respectively. In addition, the insulation of all thermal sections of the drying bin has been reengineered. These design improvements apply to all drying bins between 100 litre and 2400 litre capacity. The shape and insulation were especially chosen to enable the best possible drying conditions, hence best results, giving sustainable optimal material flow performance.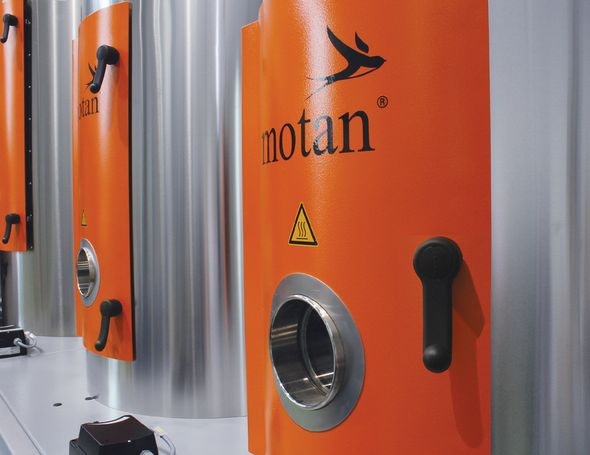 With the new design the possibility of material hang-up in the bin has been completely eliminated, as there are no edges, recesses or indentations where the material can get trapped. This makes faster material changeovers are possible; as there is no need for elaborate cleaning. The 2mm thick stainless steel drying bin surface in contact with the material is glass pearl-blasted and thus absolutely smooth. Laser welded joints with totally flat weld beads and point connections support an even, fast and clean trouble-free material flow.
The fully insulated drying bin – including the door – is made up of a temperature-resistant insulating material which is several centimetres thick. As an encapsulated insulation pack, it hermetically seals the cavity between the inner and outer wall of the drying bin. The thermal energy thus remains where it is employed most effectively, i.e. inside. This also means that the outside of the bin is not too hot.
Furthermore, the hinges have been redesigned. They are now adjustable to guarantee hermetic sealing – without any loss of heat. The user-friendly closing system can be turned 180° in two stages. The first 90° closes and locks the door; the second stage seals the door. The handle is removable – a health and safety measure. If necessary, the container door can easily and safely be opened using a spanner.