Kortec Connect and Kortec Complete - Milacron's Expanded Co-injection Solutions
New Kortec Connect Solution
The Kortec Connect system offers customers the same patented, proprietary Kortec co-injection hot runner designs and combines it with Mold-Masters proprietary E-Multi secondary injection unit, allowing molders a cost-effective entry into co-injection molding. Milacron's highly specialized co-injection engineers work hand in hand with customers to customize the Kortec Connect solution for their specific application. Our dedicated team of engineers collaborates with customers on their existing equipment via comprehensive system audits to optimize machine functionality. Once completed, our team of engineers personally ensures that the system is up and running with their new co-injection capabilities.
Kortec Complete Solution
Milacron will continue to offer the complete turnkey solutions under the Kortec Complete brand for customers looking to purchase the industry's best complete co-injection system and generate the highest possible overall performance and output. Kortec Complete offers customers the simplicity of a complete co-injection cell with a customized premium F-Series injection molding machine with 2 shot capabilities built right into the machine and the Kortec® hot runner melt delivery technology. With more complete co-injection systems in the field than all other competitors combined, Milacron is able to provide the industries' best engineering, system and service support.
The entire Milacron team is ready to welcome the world to NPE and show our valued customers "what's new"! Look for another NPE press release in the next week to learn about Milacron's unmatched service offerings.
Milacron continues to push the boundaries of possibilities in plastics with breakthrough products from leading brands including Milacron, Mold-Masters, DME, Ferromatik, Uniloy, and CIMCOOL. All Milacron product brands offer industry-leading service, support, and spare parts inventory – trust only Milacron trained experts to ensure your assets run at peak performance.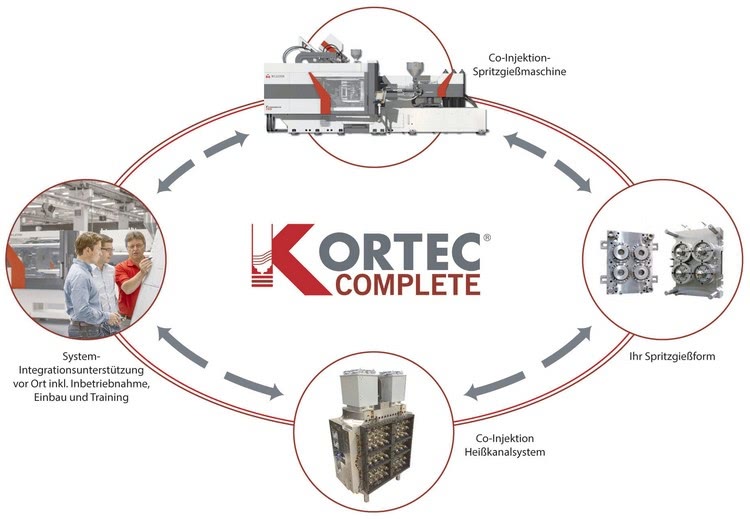 Source: Milacron