The new Sleevematic M sleeve labeller is the versatile solution from Krones AG for a wide range of dress variants, whether it`s full-length sleeves, part-sleeves or tamper-evident sealing.
As a modularized machine, the second generation exhibits even more compact dimensions. It can be put together from a choice of different reel holders and alternative shrinkage variants. Accessibility to the station has been improved, the functional dependability upgraded, and change-over of all handling parts has been simplified for concomitant gains in speediness.
With just a single height-adjustable station, it reaches an output of 27,000 containers an hours with a sleeve length of 200 mm. For high-speed applications, machines with two sleeving stations are used in tandem mode.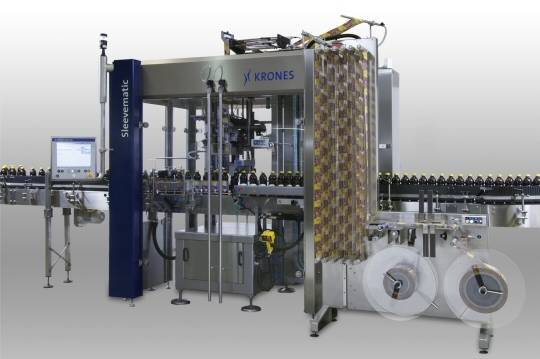 This means the machine can be run with a lower sleeve speed at the station, with concomitant gains in terms of trouble-free sleeve handling. For placing part-sleeves, using a height-adjustable belt station is one option - enabling both full-length sleeves and part-sleeves to be handled on a single machine.
There are two modularised options available for the sleeve supply unit: a sleeve buffer for two sleeve reels with manual splicing or a Multireel S automatic splicing system for sleeves. The modularised construction is retained for the shrink-on process, with the Shrinkmat steam tunnel provided for dressing closed containers. The intra-red tunnel, by contrast, can be used for both open and closed containers.
The new Sleevematic M enables high outputs to be achieved, using a one- or two-station version to suit the speed requirement involved. Its construction permits swift erection and commissioning. Despite its minimised footprint, it provides optimised accessibility for operator control and maintenance work.
Thanks to the small number of handling parts involved, the change-over times are conveniently short. Since the system is designed to function without any adhesive, not much cleaning work is required either. Both part- and full-length sleeves can be handled on a single machine. Sleeve buffers with manual or optionally automatic splicing ensure prolonged availability without any machine stops.