Leading British injection moulder, Thumbs Up (Bury), Ltd has launched a new line of food and domestic storage containers in coloured polypropylene random copolymer compounds that provide unparalleled clarity. The compounds contain Milliken's ground-breaking Millad NX8000 clarifying agent, used in combination with the company's ClearTint polymeric dyes.
Millad NX8000 improves clarity and gloss in polypropylene (PP) applications to levels comparable with "glass clear" polymers such as PET, polycarbonate and acrylics and even glass itself. It is equally applicable in products made by injection moulding, extrusion-blow moulding and injection-blow moulding. The innovative additive has also been demonstrated to help yield important energy savings and cycle time reductions for processors, thanks to a solubility in PP that is much higher than conventional clarifiers. This allows for a significant reduction in processing temperatures – around 30°C in some cases – without having a negative effect on clarity.
"The tuneable property of Millad NX8000 in PP random copolymer enables a wide spectrum of solutions ranging from what we term Enhanced Quality, or EQ, through to Ultimate Clarity - UC," says Sami T.K Palanisami, Milliken's Market Manager for Plastic Additives for Europe and the Middle East. "While UC indicates a step change in clarity and gloss to levels comparable with 'glass clear' polymers, EQ gives significant improvements in transparency and aesthetics together with a wider processing window and improved productivity. "The achievements at Thumbs Up help demonstrate the potential of using Enhanced Quality resins containing Millad NX8000."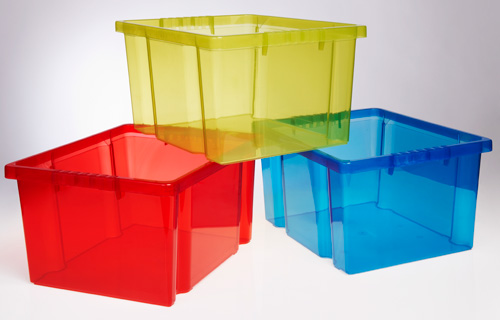 Thumbs Up produces several ranges of storage containers as well as other house and gardenwares. CEO John McGuinness says Thumbs Up has put considerable effort in recent years, together with different suppliers of polypropylene, to enable it to offer its major retailing clients high quality food containers and domestic storage products.