Milacron Holdings Corp. announced their upcoming presence at K 2016, the world's largest plastics trade fair. K 2016 will take place October 19-26th in Dusseldorf, Germany. Milacron will be displaying its Advanced Plastics Processing Technologies (APPT) featuring Milacron, Ferromatik and Uniloy product branded injection, PET, blow and extrusion offerings in Hall 15 Booth C06. Milacron's Melt Delivery and Control Systems will be in Hall 01 booth A39 featuring Milacron's product brands Mold-Masters, DME, TIRAD and CIMCOOL. Customers will be offered shuttle service between the booths in order to get a full glimpse of the Milacron portfolio working together in the two booths.
The industry's only integrated plastics processing provider, Milacron has combined the individual strengths of industry leading product brands Ferromatik, Mold-Masters, Uniloy, DME, TIRAD, Kortec and CIMCOOL. Technologies such as injection, PET, co-injection, extrusion, hot runner systems, control systems, blow molding and mold technologies have been unified to create the industry's most comprehensive integrated plastics solutions provider.
At K 2016, Milacron will illustrate how its new integrated approach, as well as its rich portfolio of products, provides customers with engineered solutions. Visitors to Milacron's booths will be able to take a closer look at the future of plastics processing technology.
"K 2016 provides us with the opportunity to show the world what's new at Milacron. There are so many exciting developments happening at Milacron, our focus remains on ensuring our customers succeed. It's been over a year and a half since we combined the industry's leading plastics processing brands under one roof," said Tom Goeke, CEO of Milacron. "K is a truly international trade show and it's the ideal platform for us to showcase our innovative technologies and products, and demonstrate to customers how Milacron can help them succeed through our innovative, end-to-end service solutions."
Here's just a sample of what visitors can expect from Milacron at K 2016:
Injection Molding Machines
Milacron's Innovative PET Preform System with Co-injection Barrier Technology - Hall 15-C06
Milacron re-entered the PET machine market at NPE 2015 and will mark its European debut at K 2016. The M-PET 300, a servo-hydraulic PET system, which combines key components across Milacron's product portfolio - machines, clamps, injection unit, end-of-arm tooling, hot runner, mold and robots - into a single solution. The M-PET series offers leading edge performance and low energy consumption plus new options for post mold handling at an attractive price-to-performance ratio. The system operates with Milacron's Preform Tooling, as well as existing industry tooling solutions.
Cell Specifics: M-PET 300, 72 cavity, 37 gram preform, 14 second cycle time, inspection system from IMD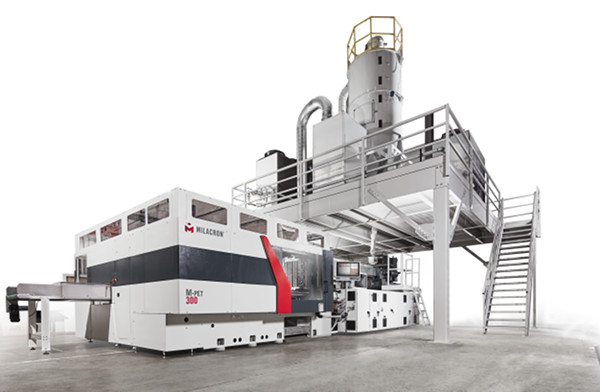 Milacron's Game Changing Klear Can with In-mold Labeling - Hall 15-C06
Fresh off the first commercial sale of Milacron's Klear Can product, Milacron will be showcasing all of the benefits of the disruptive innovation.
Milacron's Klear Can is a recyclable multilayer plastic can that is poised to dethrone metal food cans for the packaging of long shelf-life items such as fruits, vegetables, fish, meats, and more. Milacron recently confirmed the sale of the first Klear Can production system, with Klear Cans expected to hit grocery store shelves in Q1 2017. This Klear Can offers the clear advantage of allowing the consumer to see the quality of the food at the point of sale, the package is BPA free and can run in existing filling, seaming and retorting lines at canneries. The cans will be in-mold labeled using Verstaete IML technologies. The Klear Can will run on Milacron's Ferromatik-Series machine. The Ferromatik Series machines are designed to meet the needs and demands of the packaging industry with fast cycle times and high injection speeds. Ferromatik Series are in available in nine sizes: from 120 to 650 metric tons of clamping force and are pre-configured for easy multi-component, mono-sandwich, cube, and co-injection capability. Customers can also choose from electric, hydraulic, and hybrid drive options to meet their energy and performance requirements.
Cell Specifics: Ferromatik Series 280, integrated Mold-Masters iM2 48-zone controller, in-mold labeling from CBW, inspection system from IMD