In its 36th trade fair year FachPack can look back on a magnificent success story: what began in 1979 with 80 exhibitors and around 2,000 visitors, has long since become one of the leading European fairs covering everything to do with packaging. 1,439 exhibitors and 34,598 visitors at the most recent event speak for themselves. Reason enough to place the focus on "Marking & Labelling", which can be experienced at FachPack from 29 September to 1 October in Nuremberg. In 2013, 350 suppliers already showed their solutions specifically on this multi-sector theme, which has been important right from the start.
Markings are indispensable: they direct goods flows, supply consumer information, motivate and encourage the consumer to purchase with their individual design and ensure the genuineness and traceability of products. The focus theme of FachPack 2015 presents a comprehensive overview of all kinds of labels, which aim to provide information ("smart labelling") or decoration ("nice labelling"). At the fair there will be effective labelling machines, innovative identification, coding and article-surveillance systems, track & trace, various carrier materials, the latest printer and printing processes such as digital printing and 3D printing, auto ID systems, precise marking processes using laser or ink and much more to discover.
The focal point: special shows, forum contributions, company presentations
The supporting program is also devoting itself to the theme of "Marking and Labelling" with many contributions: The "Smart Labelling - A view into the future" special show, organized by the Fraunhofer Institut für Materialfluss und Logistik (IML, Institute for Material flow and Logistics) Dortmund, will be presented in Hall 3A offering the latest results. Best-Practice examples clearly illustrate the trends from research and development in the area of identification technologies. In addition to the optimum packaging, the right marking and identification of goods plays a key role in logistics and opens up new paths for innovative solutions - from standardized track & trace systems up to conducting inventories using drones. On four theme islands the special show is presenting the key economic branches of logistics: production, logistics service-providers, IT and retail. Interested trade visitors can experience the latest technologies and also try them out. Scope for a well-founded extension of specialist know-how, an inspirational exchange, lively discussions or an invigorating coffee in the hustle and bustle of the fair is provided by the popular Forum PackBox in Hall 4. Here too, the main theme will be examined from various perspectives: serialization in the pharmaceuticals sector, smart labelling and the changed challenges for the logistics sector - implementation here would hardly be possible without intelligent marking solutions. Anyone who would like to obtain more detailed information can take a seat in the PackBox free of charge without having to register and listen in on the lectures. The "Labels & more" Pavilion, which is being staged in Hall 9 in cooperation with the Verband der Hersteller selbstklebender Etiketten und Schmalbahnconverter (Association of Self-adhesive Label and Narrow Web Converter Manufacturers, VskE), is presenting label manufacturers, who create such solutions in daily practical applications for customers from the foodstuffs, beverages and pharmaceuticals industry and the retail trade. Labels are just as diverse as their applications, for that reason the range covers a large spectrum of design, printing processes and finishing. Within the framework of the "Packaging Design" special show in Hall 5, using selected exhibits, bayern design will be devoting itself to exemplary packaging design. "Nice Labelling", in other words the innovative design of labels, is one of the central factors for successful brand communication and market success.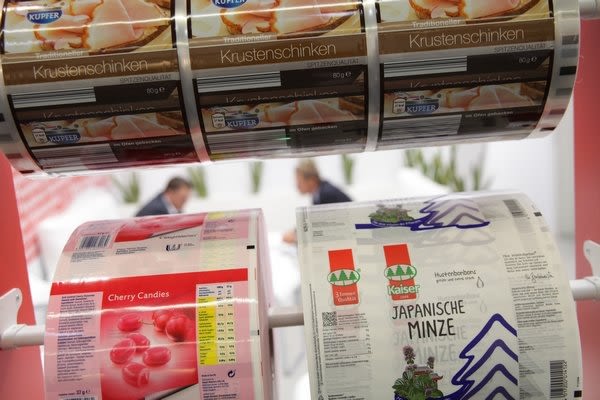 To ensure that the visitors can be quickly and effectively directed to those companies with a specific range covering all aspects of the "Marking and Labelling" theme, at the event an exhibitor track has been specifically created for this purpose. These companies will also be especially highlighted in the exhibitor database and the fair guide.