This year's Mann+Hummel ProTec presentation at the Fakuma trade fair in Friedrichshafen is focused on system solutions increasing effectiveness and efficiency of material handling in plastics processing.
The new gravimetric Somos Gramix S9 dosing and mixing system with new weighing electronics increasing dosing dynamics and accuracy as well as the new Somos high-performance cutting machines expanding the range of products are presented to the expert audience for the first time.
Mann+Hummel ProTec presents an overview of its comprehensive product portfolio on economic material processing. The range includes innovative technology for small to large capacities, hot and cold hydroscopic and non-hydroscopic material as well as process control technologies for drying, conveying, dosing and dyeing for all plastic processing technologies from extruding, injection moulding and calendaring up to blow moulding.
Effective drying systems saving precious energy are a demonstrative example of how Mann+Hummel ProTec supports processing companies in controlling processes and increasing the creation of value with trend-setting, energyefficient processing systems. The latest generation of mobile Somos T/TF eco machine-side dryers up to multi-hopper systems with central dry air generators of the Somos D series are available for this. Their energy-efficiency is based on the ALAV and Super Somos control adapted to the actual material flow rate.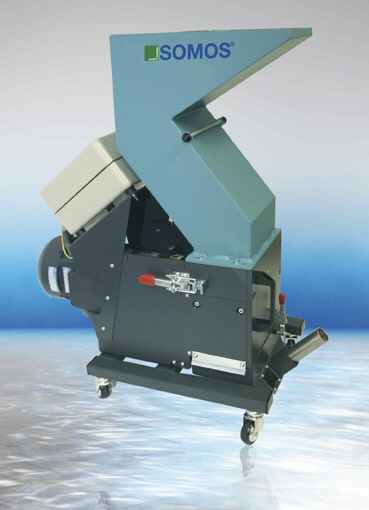 The Somos Gramix S9 gravimetric dosing and mixing system is equipped with a completely new control with highly dynamic weighing electronics. The system can dose up to nine components simultaneously and thus provide the processing machine with a continuous and longitudinally homogenous mass flow of up to 2,500 kg/h in accordance with the recipe.
The new microprocessor control contributes a significant amount of dynamics to the control of the individual dosing stations. Thanks to short communication and reaction times dosing accuracy is increased and even short-term flow variations of the processing machine are rectified faster.
This is a particular advantage in respect of the increasingly applied technique to add minimum amounts of highly concentrated master batches from colours to numerous functional additives to the main material flow.
Somos Gramix S9 and its new weighing electronics now even manage process-stable exact dosing of flow rates of only 200 g/h – which corresponds to 3 g per minute and has been a limit case so far.
The control unit is now equipped with an automatic detection of dosing screws used in the dosing stations to avoid faults caused by wrong entries as well as a touch screen for comfortable operation and programming with many evaluation and display functions. With these functions the operator can still use the gravimetric dosing and mixing system as stand-alone solution in case of failure of the main system control. This provides significantly higher system availability. Gravimetric dosing and mixing systems of the Somos Gramix S9 series are very suitable for extruders operating in overfeeding or underfeeding mode, continuous production processes in co-extrusion or blow moulding applications.
The new Somos cutting machines from Mann+Hummel ProTec make it possible to recover thermoplastic materials like sprue bushes, slugs or stock outages accumulating during the production of injection moulded, blow moulded or extruded materials for the creation of value directly during production. A series tailored to the respective requirements of the production plant and graded in size is available for this purpose.
The series ranges from the smallest plastic cutting mills via toothed roller mills for particularly brittle material up to small central granulators. The Somos Slow Cut series with cutting chamber openings from 130 x 100 to 170 x 310 mm2, Eco Cut (from 250 x 250 to 250 x 500 mm2), Power Cut (from 300 x 300 to 450 x 800 mm2) and Snap Cut with a 260 x 260 mm2 cutting chamber opening has been designed for multipurpose operations.
The design of all Somos cutting machines is compact and space-saving, the machines are equipped with contact-safe and sound absorbing media chutes, operate almost noiselessly and deliver high-quality mill material with only a minimum dust portion. Performance features include low energy consumption and a long service life as well as easy handling and cleaning saving time and money.