Lanxess is building the world's largest plant for EPDM synthetic rubber in China. The German specialty chemicals company is investing EUR 235 million in the plant in Changzhou (Jiangsu Province). This is the largest investment the company has made in China to date.
The plant will have a capacity of 160,000 metric tons per year and the investment will create up to 200 new jobs. The plant is expected to start up 2015. All necessary permits have been obtained from the local authorities.
Lanxess is the world's leading supplier of EPDM (ethylene propylene diene monomer) following the successful acquisition and integration of DSM Elastomers in 2011. It markets its products under the brand name Keltan. Global demand for EPDM is expected to increase by more than four percent per annum in the coming years, while demand in China is expected to grow by around eight percent, driven above all by automotive and construction industries. China will also continue to be the largest net importer of EPDM in the coming years.
"We are strengthening our global EPDM asset base with a world-scale plant in China to serve our local customers even quicker with premium products," said Lanxess CEO Axel C. Heitmann at today's groundbreaking ceremony.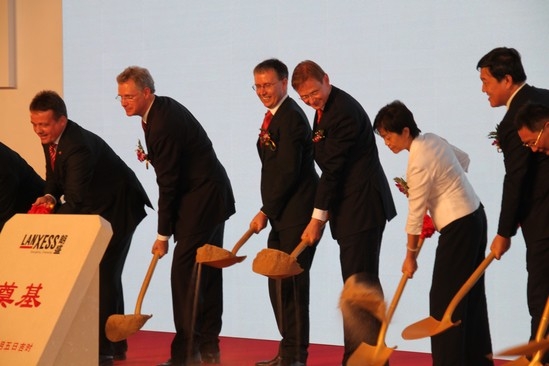 "This plant also represents our company's third major rubber investment in Asia and strengthens our credentials as the world's leading provider of synthetic rubber," added Heitmann.
Lanxess will start up a world-scale butyl rubber plant on Singapore's Jurong Island in the first quarter of 2013 and will break ground for a neighboring neodymium-based performance butadiene rubber plant on September 11 this year.
The new EPDM plant will be located at the well-established Changzhou Yangtze Riverside Industrial Park, with access to excellent storage and ship uploading facilities. Lanxess will be supplied the key raw materials ethylene and propylene from a methanol-to-olefins (MTO) plant currently under construction at the site. The MTO process is a new way to produce these key raw materials, which are conventionally produced from refineries. During the construction phase, up to 2,000 people will be working on the site.
Lanxess is already active at the Changzhou site, with the construction of a leather chemicals plant. The facility of up to 50,000 metric tons capacity per year represents an investment of EUR 30 million and is planned to go on stream by the first half of 2013. It will produce premium LANXESS leather chemicals for the local Chinese market used in various applications like leather tanning, dyeing and finishing. Some 100 jobs are being created.