KraussMaffei Berstorff will take part in Chinaplas in Shanghai as an innovation driver for future requirements on the market in Asia and China. An extruder pipehead concept for 5-layer pipes will be presented on the company's exhibition booth. The production plant in Haiyan will also open its doors at the same time as Chinaplas. The market leader will showcase many different applications during live demonstrations at the Haiyan plant.
5-layer pipehead KM-5L RKW 01-40 sets standards for future requirements on the Chinese market
In China there is continually increasing demand for complex machines and premium quality end products. "With our 5-layer pipehead we are presenting a stable and very efficient solution for the trend towards complex, multi-layer pipes," said Michael Hofhus, Head of Sales and Service of KraussMaffei Berstorff in China. "Using our internationally proven pipehead concept, producers on the Asian and Chinese market can manufacture complex pipes with up to five functional layers," explained Hofhus. The pipehead has a modular design based on the spiral distributor principle; the spiral distributors are flow-optimized and have the lowest possible pressure loss, thus ensuring optimum pipe quality coupled with high production reliability. The exhibit (for the diameter range up to 40 mm) is combined with the single-screw extruder KME 45-30 B/R and two coextruders in the size KME 30-25 D/C from the Performance Series. All the machines in this Series are produced according to strict European quality standards using locally available components and first-rate processing engineering expertise at the production plant in Haiyan for the needs of the local market. Chinese customers therefore obtain extrusion solutions which are perfectly tailored to the Asian market.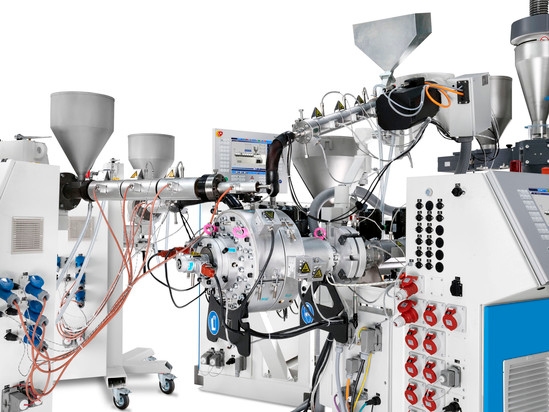 "Open House" at the Haiyan production plant during Chinaplas
With the extension of production at the Chinese plant in Haiyan, the KraussMaffei Group is also continuing its clever strategic positioning on the Asian market. On the occasion of the opening of the plant extension, customers and visitors to Chinaplas will have the opportunity during an "Open House" (April 23 to 25, 2014) to learn about the efficiency and innovative capacity of the KraussMaffei Group and its KraussMaffei, KraussMaffei Berstorff and Netstal brands. KraussMaffei Berstorff will demonstrate the economical production of PE pipes (for the diameter range up to 630 mm) with a complete extrusion line. The pipehead integrated here is equipped with IPC technology which ensures highly efficient pipe production thanks to an additional pipe interior cooling system. Visitors will be able to obtain information about economical and efficient compounding on the running twin-screw extruder ZE 52 Basic with corresponding downstream components.