Energy costs account for an ever-increasing share of manufacturing costs. For this reason, KraussMaffei Berstorff is identifying ways of helping customers to reduce power consumption. For example, the company now offers its range of 36D single-screw extruders with energy-efficient, high-performance, three-phase AC motors.
The soaring cost of energy poses problems not only for private households, but increasingly also for industry. Manufacturing industries are facing escalating costs, driven largely by the rising price of power. In the past eight years, prices for industrial electricity in Germany have increased by as much as 120%. More and more companies are finding that cutting power consumption is a fast and effective way of reducing costs. In the plastics processing industry, energy consultants can advise on energy saving measures; the consumption of every machine needs to be scrutinized.
As a leading supplier of extrusion machinery, KraussMaffei Berstorff has taken up the power-saving challenge. The starting point is always a detailed energy audit of the main energy consumers in an extruder in order to pinpoint the modules with the highest energy consumption and the greatest losses. The main areas of heat loss are the barrel of the plasticizing unit and the drive train - the gearbox and a conventional DC motor. In response to these results, KraussMaffei Berstorff offers solutions that address these heat losses.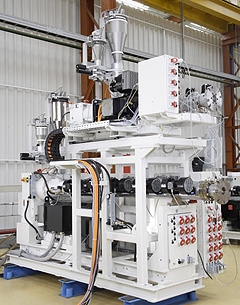 The company now offers - as standard - all the single-screw extruders in its 36D Exclusive series for PO pipe extrusion with three-phase AC motors instead of DC motors. Conversion to AC motors quickly pays off for KraussMaffei Berstorff customers. The efficiency of AC-driven extruders is higher than the equivalent DC versions; the efficiency gain is between five and twelve percent, depending on the operating point.
Low maintenance and cleaning effort improves uptime. This in turn improves extruder productivity. A reduction in the number of wear parts, eg, no carbon brushes or collectors, makes the machines even more rugged and reliable. The AC motors also show substantially better behaviour under part-load than the DC drives.
One of the contributory factors here is the sharply reduced reactive current requirement. KraussMaffei Berstorff also offers the water-cooled AC drives as an option for production under cleanroom conditions. With this new energy-saving measure for the 36D Exclusive single-screw extruder series, KraussMaffei Berstorff is helping its customers to save energy and costs in manufacturing. The result is cost-competitive and environmentally-compatible production.