In response to soaring customer demand, KraussMaffei has doubled production area at its plant in Harderberg, Germany. By doubling the existing production area to a total of 2700 m2 KraussMaffei is sharply increasing its capacity to produce tooling and molds for polyurethane processing.
"The phenomenal growth of our business area Automotive Component Systems (ACS) in Harderberg is a unique success story," commented Frank Peters, member of the managing board of KraussMaffei Technologies GmbH. In view of this strong growth, he pointed out that the decision to build the plant in this location was definitely the right one. Sales generated by ACS in Harderberg have grown by more than a factor of ten since the end of 2005, as has the customer base.
"The decision to go ahead with the expansion was taken in the middle of Germany's most serious economic crisis in recent years, but it was an easy decision in view of the very good growth rates achieved by ACS and escalating customer demand. I'm very optimistic about the future," says Peters. KraussMaffei is strategically well-positioned and optimally prepared to exploit market opportunities as they come up.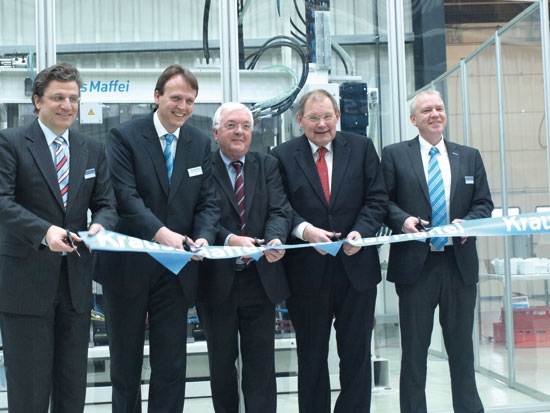 As a world leader in technology, systems and solutions for the plastics and rubber processing industries, the company enjoys high customer acceptance, which is generating an increasing number of requests to quote for new projects followed by firm orders. "This trend will also benefit our team in Harderberg, which profits from the structural and financial backing secured by the strength of the KraussMaffei Group. The strong links with the parent company mean that ACS specialists are involved at an early stage in confidential development work on customer projects involving tooling for injection and reaction processes and for technology fusions.
63 workplaces created in five years
The KraussMaffei plant in Harderberg began operating on August 1, 2005 – with just three employees. "A key reason for the start-up decision was the local availability of a pool of highly-skilled people with know-how in tooling and moldmaking, especially for polyurethane processing. Time has shown that this was the right decision. By year-end 2005, employee numbers had already jumped to 15; today it's 63," explains Rainer Janotta, KraussMaffei plant manager in Harderberg.
He especially values the trust-based relationships built up with customers, primarily from the automotive industry, but increasingly also from other sectors such as medical and pharmaceutical. "We've shown that we can meet our customers' expectations for maintaining the very highest confidentiality throughout a project and that we bring huge technical competence to their projects. We have every intention of continuing to work at this level," asserts Janotta.
Extra capacity ready to take advantage of multi-sector opportunities
The new building and the extra capacity resulting from the installation of more tooling machines gives the company more chances, especially working in tandem with the KraussMaffei plant in Viersen, which is also part of the ACS business area. "As a system supplier with our own tooling and moldmaking operation, we have a broad enough portfolio to serve growing market segments and the niche markets as well," emphasizes Janotta.
Overall he's optimistic, because the moldmaking business depends heavily on the market potential and the capacity fluctuations in the plastics industry. "New molds will always be needed, whenever new products are developed or new models launched, regardless of whether these are produced in large volumes or small series," says Janotta. He's especially proud of the fact that the new building has enabled ACS to fit out two completely separate, highly-secure zones in its TechCenter for confidential project development. They make it possible for different customers to carry out sampling tests on their new molds at the same time, secure in the knowledge that their intellectual property is fully protected.