KraussMaffei is doubling the production area at its subsidiary KraussMaffei Automation
AG to meet the growth in demand for robot-assisted manufacturing solutions.
Members of KraussMaffei's managing board joined the administrator of the Erding district and the town's mayor for today's groundbreaking ceremony to mark the official start of construction of the new factory hall. The building is scheduled for completion in the fall of this year, giving the company a total production area of 1,570 square meters.
Automation solutions in demand
The groundbreaking ceremony marked the start of construction for a new production facility at the plant operated by KraussMaffei Automation AG in Schwaig Oberding in the Erding district, not far from Munich airport. Wielding their spades for the occasion were Erding District Administrator Martin Bayerstorfer, the Mayor of Erding Helmut Lackner, Dr. Karlheinz Bourdon from KraussMaffei's Board of Management and Josef Neureder CEO of KraussMaffei Automation AG "As demand for automated manufacturing cells for injection molding continues to grow, it has become necessary to more than double our production area here.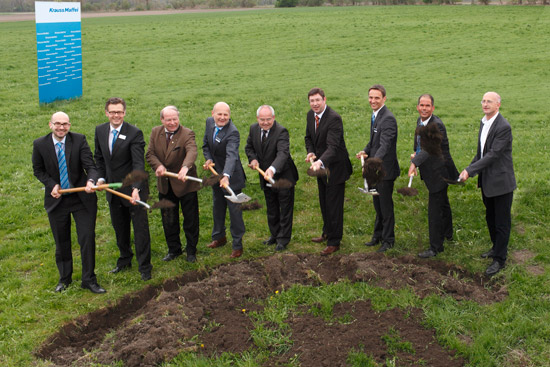 More and more of our customers are profiting from the added value delivered by efficient manufacturing cells created by the intelligent convergence of robots and injection molding machines. The growing demand also acknowledges the fact that KraussMaffei is the only company in the market offering three high-performance automation solutions," points out Dr. Karlheinz Bourdon.
The new building will expand the production area from 670 to 1,570 square meters and is scheduled for completion in the fall of this year. The new facility is earmarked for production and assembly of robots for injection molding machines. "It will enable us to meet increasing demand and also to ensure that customer's confidentiality requirements are fully respected," says Bourdon.
Successful concept
KraussMaffei Automation AG has been planning, designing and building automation solutions for injection molding based on linear and industrial robots ever since the company was founded by Josef Neureder in 1982. Robots have been assembled in Schwaig since 1986. The Schwaig plant was expanded for the first time in 1999 and in 2001 a secondary plant was opened in Schwerin. The company became a subsidiary of KraussMaffei Technologies GmbH, Munich, in 2002. In 2004, additional production space at KraussMaffei's Allach plant was made available for robot assembly. Since 2006, the company has operated as KraussMaffei Automation AG.