"Future trends are set at the K," says Michael Hehl, Managing Partner, describing the importance of the world's leading fair, which had met Arburg's high expectations in all respects. Despite the crowds of visitors at the almost 1,500 square-metre exhibition stand, he believes that visitors did not lack personal support. "At the K 2010 we engaged in interesting discussions with customers from all over the world, including many with decision-makers overseas," reports Managing Director Sales, Helmut Heinson. "We discussed new projects and got them off the ground, but also received several definite orders." The feedback at the fair once again confirmed that high-tech machines from Arburg are in demand all around the globe. Interest in complete production cells, tailored to customer requirements by Arburg as main contractor, was especially great.
Thanks to the consistent, future-oriented further developments to our product range during the recession of 2009, Arburg was able to present numerous innovative solutions for even more efficient moulded part production at the K 2010. Accordingly, the response to these global innovations, including the large, hybrid Allrounder 920 H high-performance machine, the servo-electric integral picker and the "Set-up Assistant" – a new module of the Selogica control system – was extremely positive.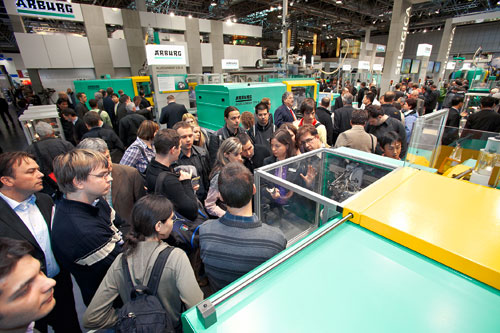 Numerous innovations attracted international trade experts to the Arburg stand.
"A separate exhibition area enabled us to impressively highlight our unique, user-friendly Selogica control system," says Managing Director Technology & Engineering, Herbert Kraibühler. "Through the logically consistent in-house development and implementation of our control system, we are continually setting standards for the entire injection moulding industry." In addition to the new set-up assistant, important features relating to product protection, for example, and the programming of a six-axis robotic system via the Selogica user interface were presented live and explained in detail.
International trade visitors were also delighted with the broad range of applications and sectors covered by the ten exhibits. These included the complex production of a rotary encoder in a three-component process, the Arburg bag with its paper bag look, the use of a six-axis robotic system for the flexible encapsulation of cables for the automotive industry, the manufacture of micro components, syringe barrels for medical technology and tubs for the packaging sector using the in-mould labelling technique. This was complemented by the presentation of innovative mould technology in co-operation with our partners. The Arburg exhibition stand was therefore a fixed port of call in all things innovative, for experts from all branches of the injection moulding industry. And once again they came in great numbers, for the K attracted over 220,000 trade visitors from more than 100 countries, consisting of about 40% from Germany and 60% from other European countries and overseas.