Plastech publishes an interview with Alessandro Grassi, General Manager of Frigosystem. The company was one of the almost 700 exhibitors at Plastpol exhibition in Kielce, Poland, on May this year. Plastpol is the largest fair event dedicated to the plastics industry in Central and Eastern part of Europe.
Mr. Grassi, could you describe Frigosystem company?
Alessandro Grassi:
- Frigosystem was founded more than thirty years ago. From its very beginning, the company has dedicated itself to the construction of water cooling machines and systems used to process plastics, chemicals and for machine tools.
The company, which presently exports about 40% of its production, is in close contact with the major national and international manufacturers in the field and is dedicating itself almost entirely to the design and construction of custom made systems. In fact, the client are expanding the number of machines they use, and therefore the request for centralized, modular and expandable systems is increasing and requires dedicated engineering and construction. In designing its equipment, Frigosystem dedicates much attention to both environmental protection and energy savings, so, according to this concept, it offers water recycling and water cooling systems which greatly reduce the use of energy.
We have decided to move and to establish our structure in Poland. At the moment we have two sites. One is in Wroclaw, where we have an office with a service. The second office is situated in Lodz. It includes sales and service. Thanks to this location we are able to cover the south-east of the country with the first office and the north west (above Warsaw) with the office in Lodz. We believe so much in the Polish market that we have established our own company Frigosystem Polska.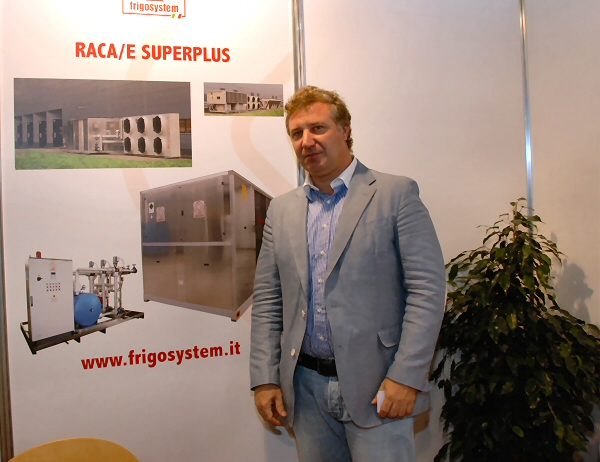 Tell us please something about the company's future plans.
At this moment we want to introduce to clients our Temperature Control Unit available between 3 and 100kW with water pressurized up to 180 degrees and oil up to 350 degrees. Apart from that, we are a manufacturer of chillers, offering a complete opportunity for big cooling drain solutions. Recently we have prepared a complete cooling platform for an extrusion line at Sealed Air Polska near Warsaw. It uses 300kW chillers (plast recooling) and 13 temperature control units, all 200 degrees. Moreover he biggest investment of our company in Poland is Almo Polska in Wroclaw. Its a complete cooling plant for injection mold machine and extrusion line composed by two systems.
The one for the injection mold machine includes 1000kW plast cooling power and douple pre-cooling – for the mold and a pre-cooling for the hydraulics. The application at Almo is now working for 24 months and saving energy. The same plant as in Almo, but smaller (350 degrees) has been applied in the thermoforming line at the refrigerator manufacturers for Whirlpool, Sony and LG.
The turnover for our company in Poland is expected to be around 1million Euros.
What is your expectations concerned with our region?
The Polish market is very promising for Frigosystem, because of many investments being made. Despite the crisis, Polish companies are making investments, having a source of financing from the EU, they are able to apply new technologies providing energy and costs saving which are crucial in these times.
Polish sites are designed to takeover company's contractors from the region. We wish the Frigosystem Polska sites to provide service for our appliances present in Poland. We are also planning for the polish sites of Frigosystem to project and produce complete lines with the full piping projecting to provide maximal energy saving for our Polish contractors needs.
This year it was a first visit for Frigosystem Polska at Plastpol Exhibition in Kielce as a individual and direct distributor.