At the Plastpol 2018, from 22 to 25 May, the Wittmann Group will present with its subsidiary Wittmann Battenfeld Polska ultra-modern injection molding technology, automation and peripherals at its booth No. F11 in hall F.
In recent years, Poland has emerged as one of the most important markets of the plastics industry. Therefore the Wittmann Group has been present in Poland with its own sales and service subsidiary since the beginning of 2016. The Plastpol is an important platform for the company to present its latest products in the Polish market.
At this year's Plastpol, Wittmann Battenfeld Polska will exhibit one machine from its servo-hydraulic SmartPower series and another from its all-electric EcoPower series, in addition to a wide range of robots and peripheral appliances. Both machines stand out by their extreme energy efficiency even in the standard models.
On a SmartPower 180/525H/210L Combimould, a drinking cap made of thermoplastic and liquid silicon will be manufactured with an 8-cavity mold supplied by ACH Werkzeugbau, using transfer technology. Parts removal and depositing will be handled by a W832 pro Wittmann robot.
On an EcoPower 55/130 Unilog B8, equipped with a Flowcon plus flow controller from Wittmann integrated in the machine's Unilog B8 control system, a ball filter will be manufactured from PA using a 4-cavity mold supplied by Safeplast GmbH, Austria. The Flowcon offers individual closed-loop control of the flow, the inlet temperature or the differential temperature for every single cooling circuit, which contributes substantially to quality improvement and production stability. Furthermore, the Flowcon's extensive parameter settings are saved together with the respective mold data sets. This allows for extremely easy and faultless operation of the appliance.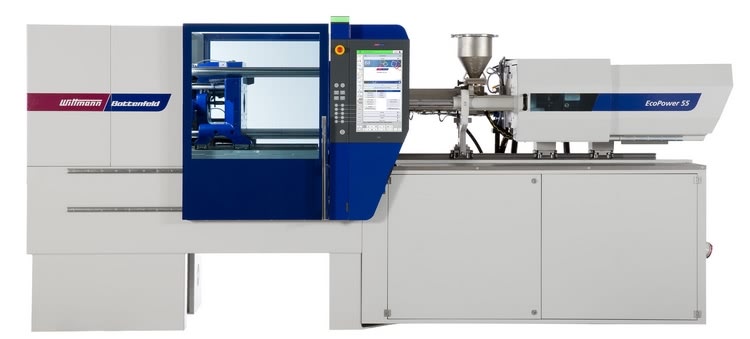 EcoPower 55/130 Unilog B8
In addition to showing these two machines at this year's Plastpol, Wittmann Battenfeld will also provide a clear, easy-to-understand demonstration of how to integrate robots and peripherals into the new Unilog B8 machine control system on an interactive display board. This will give visitors an opportunity to test the advantages of flexible, intelligent Wittmann 4.0 technology for themselves.
Wittmann automation and peripheral equipment
In addition to the robots and peripheral appliances integrated in the injection molding machines, the Wittmann Group will present a wide range of robots and peripherals as stand-alone solutions.
In the automation sector, the servo robot models WX143 with B+C servo axes and WX153 with an A-C servo axis, both with CNC9 control systems, will be shown for the first time on the Polish market, together with a W918, also equipped with the new CNC9 control system, and a Primus 16. The newly introduced models WX143, WX153 and W918 all come with the powerful next-generation CNC9 robot control, which offers innumerable additional functions, such as the digital twin which enables preventive, interactive testing of the robot's movements and thus serves to minimize any negative consequences of possible programming errors.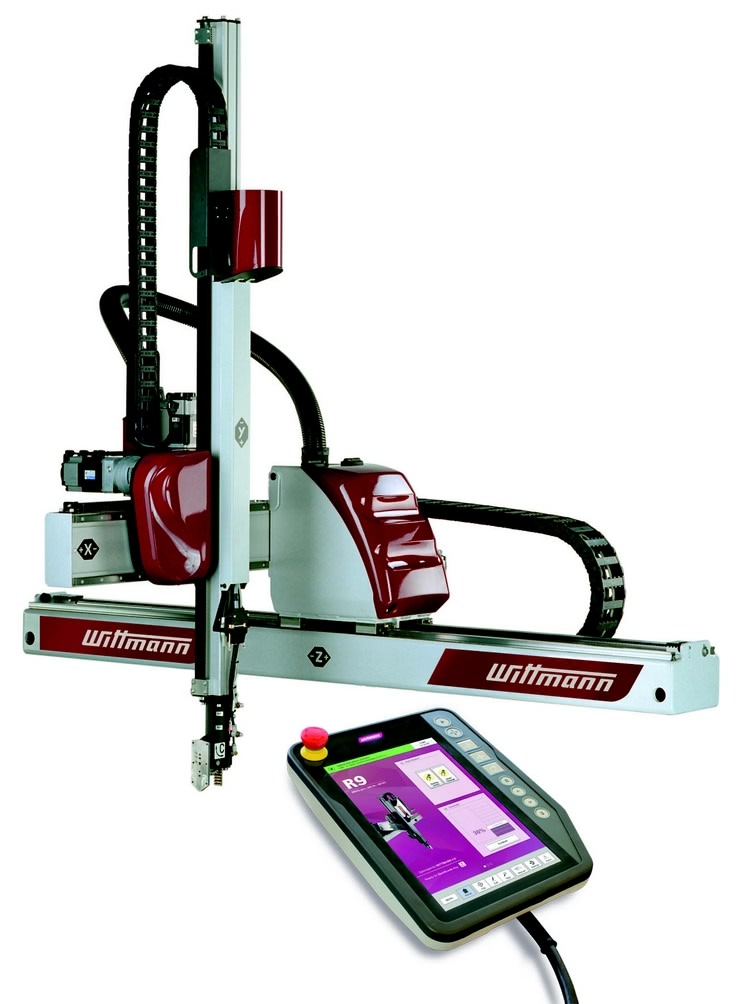 W918 robot from Wittmann with new CNC9 control system