"The concept has convinced us since it is ideal for beginners in the WPC market who want to use their local raw materials. We know that, with Reifenhäuser Extrusion, we have found a partner at eye level", says Alexander Lobov, Director of OOO UK "Industrial Park - Kamskie Poljany".
The ultramodern industrial park that is being built in the emerging Republic of Tatarstan is a major project financed with 51% by private investors. The remaining 49% are provided by the Government of Tatarstan and investment fund of the Russian Federation.
A main investor in this project is OAO "Nizhnekamskneftekhim", the largest Russian producer of plastics with about 20,000 employees.
In 2011, 1400 tonnes of high-quality decking from Wood Polymer Composites (WPC) will be produced there in addition to stretch film (15,000 t/a), multifilaments (2,000 t/a) and polymer grids (800,000 t/a).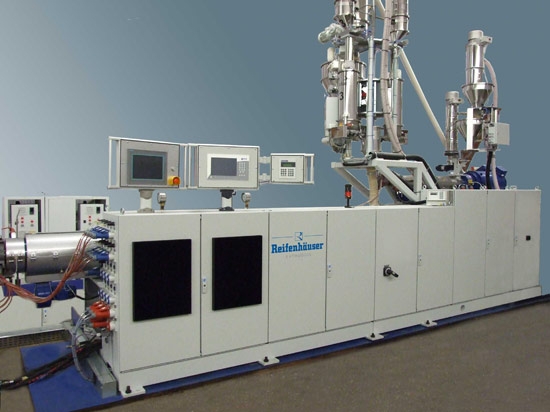 "It is known that there is a huge market for WPC decking in Russia and we are striving for a high European quality standard not only in the production of the end product, but also with regard to a long service life of technolgoy and easy handling. For this reason, we are banking on Reifenhäuser Extrusion whom we have experienced as a reliable partner with great expertise and profound WPC know-how," says Lobov. "The principle of pre-plasticising the plastic material before adding the fibres in a single operation seems to be the most reasonable and profitable solution to us."
The terrace decking production in Tatarstan uses wood fibres from OOO "Sabinskij Polidrev" and plastic material from OAO Nizhnekamskneftekhim. The energy, space and labour saving "BiTrudex" direct extrusion process enables the decking to be produced with a wood content of about 70%. Production start is scheduled for March 2011.