Illig, manufacturer of thermoforming machines, welcomed more than 100 participants from the whole European market on occasion of the company's Presentation Days, January 27 and 28, 2009.
Presentations illustrating state-of-the-art automatic pressure forming machines of RDK series for combined forming/punching operation and RDKP series for separate forming and punching were completed by a total of seven machine demonstrations. Solutions for various applications were demonstrated on current third Generation Thermoformers, the range included hinged packs and menu trays through to sealing lids.
The participants were particularly interested in the production line with the new RDK 90 automatic pressure forming machine where APET trays were manufactured using a 16-up tool at a speed of 55 cycles/min. The integrated new "Illig ThermoLine Control" was demonstrated with this line. With this new ThermoLine Control it is possible to centrally monitor, optimize and control processes of all individual machines via the thermoformer's control.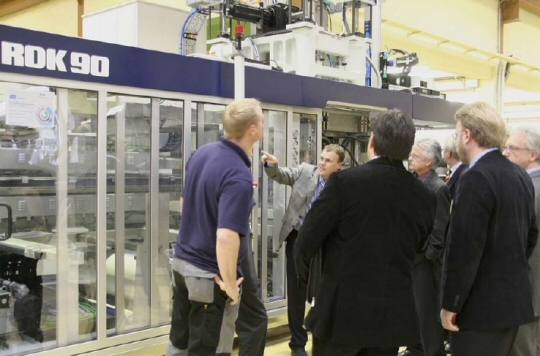 With this new control generation the customer benefits from facilitated and faster tool and format changes with considerably increased productivity and availability of the thermoforming line at the same time. These are the goals constantly pursued in all further developments and innovations, as outlined by Karl Schäuble, Managing Director, during the opening of the event. Illig customers from German-speaking areas were invited to attend the first presentation day. The second day the presentation language was English thus meeting the requirements of international participants.
Frédéric Engel, Product Manager of RDK and RDKP machines, provided detailed insight into technological innovations based on the new RDK 90 automatic pressure forming machine, the now largest version of these automatic pressure forming machines, featuring up to 900 mm processable material width and 700 mm index length. The constant use of servo motor drives in 3rd Generation Thermoformers for all motion sequences is one of the basic requirements for the high cycle speeds achieved.
The servo drives work in an energy-saving way, precisely and fast, and thanks to high positioning and repetition accuracy they allow maximum overlapping of production steps which saves process time. Product quality and process reliability are maintained. The highly dynamic generation and reduction of forming pressure is one of the decisive factors for the high cycle speed of 55 cycles/minute achieved in the forming/punching operation with steel rule dies integrated in the RDK 90 forming tool.