As part of its sustainability initiative, the Gabriel-Chemie Group is implementing several strategy programs. One of the first modules is the introduction of a colour range based on Post Consumer Recycled (PCR) polypropylene.
Gabriel-Chemie has been working for some time on the reduction of virgin materials, i.e. the native, fossil raw materials in plastic or masterbatch processing. With a first colourful masterbatch offer from Post Consumer Recycled polypropylene, a milestone in the market has been achieved. The suppliers collect their polymer from post-consumer waste such as the so-called "Yellow Bag"("Gelber Sack"), which serves as a base material. The creation of a large variety of colours is already possible. Lighter and effect colours, as well as e.g. the combination with laser marking additives, can also be realized depending on customer requirements and demands.
The first concrete customer projects in the packaging area are currently in progress and further projects to use PET and HDPE PCR as the carrier base are in development. Gabriel-Chemie is now the first port of call for customers demanding sustainable solutions in the recycled polymer colour segment.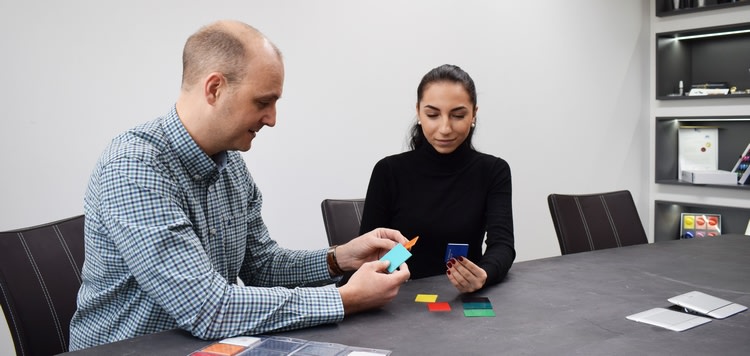 Mark Hannah is convinced that PCR colours are the first major step towards the sustainability strategy of the Gabriel-Chemie Group. Photo: Gabriel-Chemie
"With the PCR colour range, we are taking a big step towards the future. The social responsibility of Gabriel-Chemie to develop sustainable business has greatly increased in recent years. This is also reflected in the embedding of CSR in our medium and long-term strategy.", explains Mark Hannah, Head of Corporate Marketing.
Implementation of a sustainability strategy throughout the group
As a second-generation owner-managed family business, Gabriel-Chemie is today one of Europe's leading masterbatch producers after almost 70 years of existence. A long-term and, above all, sustainable strategy is therefore a priority that focuses on delivering high quality and innovation.
Sustainability has been a strong focus for Gabriel-Chemie in recent years. Responsibility and awareness of resource-saving processes pave the way for the group into the future. The upcoming generations in the family business are also adding their voice to the drive for sustainability. In addition to the PCR product range, the group-wide initiatives also include Corporate Social Responsibility (CSR), awareness, circular economy and recycling, brand identity & personality.