The industry's first all-natural protein water has been launched in lightweight hot fill containers from Amcor Rigid Plastics, significantly reducing weight and cost while offering better performance than competitive hot fill alternatives.
Amcor's new patented Active HingeTM technology is used for 16-oz PET containers for Spartan Beverages Inc., Valencia, Calif., a manufacturer of all-natural protein waters.
Spartan Beverages' 16-oz PET bottles use 40% less material and cost 20% less than competitive PET containers. The company was able to meet its sustainability commitment by choosing a lightweight, recyclable bottle that significantly reduced freight costs. All of these benefits were realized without sacrificing performance.
Spartan Beverages' all-natural protein waters contain the purest whey isolate and are free of gluten and soy. The three drinks - Spartos, Spartos Sugar Free, and Goddess - are also free of artificial colors or flavors and naturally sweetened with cane sugar or Stevia, according to Kirk Bardin, CEO of Spartan Beverages. - The attractive, lightweight containers not only offer strong environmental and cost benefits but also deliver a clean look, a nice feel, and attractive shelf appeal - explained Bardin.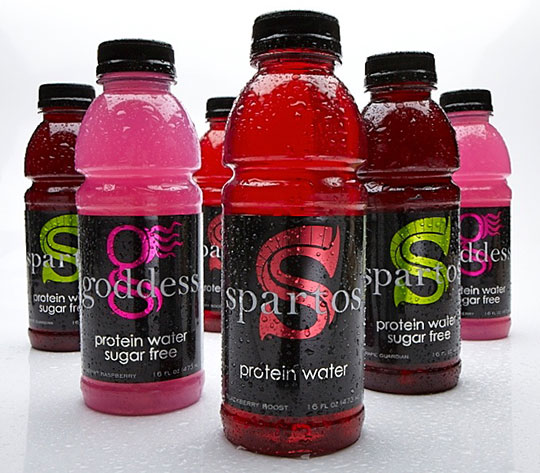 Active Hinge technology incorporates a unique design that elevates hot fill bottle options to a new level. Amcor's innovative technique makes use of horizontal hinges which exhibit vertical movement and absorb the vacuum as the liquid cools. This technology creates an attractive appearance and feel that approaches that of a straight wall container. The active hinges provide high radial stiffness and give the 31.4-g container excellent top load strength – almost 30% better than competitive hot fill bottles. In addition, the bottles are more durable, dent resistant, and exhibit strong stacking capability.
The Active Hinge bottle also significantly enhances aesthetics, according to Bardin. The metallized label fits more securely and eliminates any rippling or crinkling effect. The 38-mm-finish bottle runs on existing filling lines. Spartos all-natural protein waters are currently sold at natural food and convenience stores on the West Coast and online.