At Fakuma in Friedrichshafen from October 16 through 20, 2012, Ferromatik Milacron will present three exhibits, each featuring all-new technologies.
For the first time multi-component molding and cube technology will be demonstrated in the new modular F-Series. The F 270, the latest addition to the F-Series, will also be introduced. Finally, the second generation of the popular all-electric Elektron series will be unveiled, featuring a new design and a new control panel.
At Fakuma, Ferromatik Milacron will present the first multi-component machine in the new modular F-Series. With a clamping force of 1,600 kN, the F 160-2F is configured as a hybrid machine. It offers tie-bar spacing of 570 x 570 mm and houses a 2+1-cavity mold by Udo Bodmer of Solution B (Hausach, Germany). The machine is outfitted with both a main and a vertical injection unit. Both are Advanced Performance (APh) 45 injection units and are hydraulically driven. Both screws have a diameter of 40 mm.
In the first step, the vertical injection unit produces two separate parts which will form the top of a container for six eggs. An in-mold-label (IML) is also applied to these parts. Once the top of the container is injected, the bottom of the container is molded by the main injection unit. In the mold the two top parts are arranged left and right from the bottom and are joined to base of the container with hinges that allow each half of the top to be opened individually. This innovative packaging solution is merchandised as chickPack and was developed by Udo Bodmer of Solution B.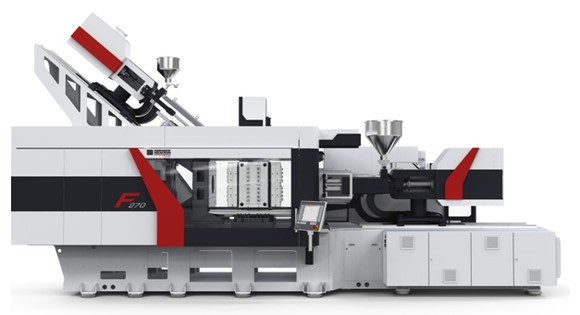 The two-component part has an average wall thickness of just 0.35 mm. It is made from transparent polypropylene (PP) and has a weight of 19 g. The F 160-2F produces the part in a cycle time of 2.6 seconds. "The F-Series offers molders a high-performance solution that can produce thin-walled, two-component parts at high speed without any issues," said Dr. Thorsten Thümen, director of research & development at Ferromatik Milacron. In comparison to conventional carton packaging, this inspired plastic design offers several key advantages:
• A reliable First Open seal, guaranteeing that new packages have not been opened, and preventing unscrupulous shoppers from replacing expensive organic eggs with lesser quality eggs, for example.
• The plastic packaging is food safe, moisture resistant, odorless, and hygienic, keeping the porous egg shells safe from contaminants.
• The empty packages are 50% lighter and require 50% less space when stacked, providing logistical benefits and reducing CO2 emissions.
The F 270 CUBE with a clamping force of 2,700 kN is a new intermediate size in the modular F-Series. It is also the first cube molding technology machine in the new line. "For 15 years Ferromatik Milacron has offered hydraulic and hybrid machines with flexible stack-turning mold systems leading to the development of advanced cube and twin-cube molding technologies," said Gerold Schley, managing director of Ferromatik Milacron. "With the F 270 CUBE, Ferromatik Milacron now has an all-electric cube molding machine on the market."
The machine has generous tie-bar spacing of 750 x 750 mm. Within the machine there is a rotating mechanism and an 8+8 cavity cube mold with four sides, both made by Foboha (Haslach, Germany). The machine uses a General Performance (GPe) size 50 main injection unit as well as a GPe size 45 traversing injection unit, mounted over the clamping unit on the moving platen. Both injection units are electrically driven and have 45 mm diameter screws.