Fanuc Robomachine Europe will be demonstrating three of its electric Roboshot injection moulding machines (IMM), series S-2000iB, at Fakuma 2011.
It is expected that this year, a large number of potential customers will show great interest in the machines characterised by their low energy consumption, a clear sign of the currently prevailing concern about energy costs and CO2 emissions.
Live demonstrations: A 30-ton Roboshot, integrated into a fully automatic manufacturing cell for micro moulding application will produce high-precision miniature parts (tiny cogwheels for watch movements). In addition, visitors can find out more about economical production of two-component moulded part (poker chips), using an eight-cavity hot runner mould. An E-Multi injection unit by Mold-Masters is part of the mould and responsible for the second component. Fanuc devotes a separate live demonstration to mould protection: a Fanuc LR Mate 200iC robot inserts a paper drinking cup into the closing mould of a 50-ton IMM and achieves the machine-stop – at the crucial moment – before either the mould or the cup are damaged.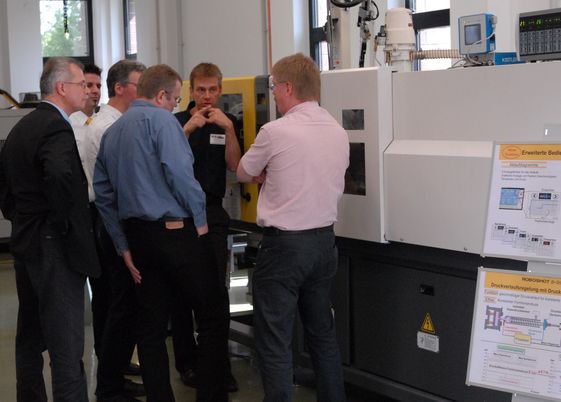 A customer request: Using a Fanuc Roboshot S-2000i/30B, micro parts – tiny cogwheels for watch movements - are to be produced. A robot automation unit, a Fanuc LR Mate 200iC, is to be installed in a cell at the side of the IMM. The six-axis industrial robot will supply the mould with inlay parts, all functions optically controlled. These will be delivered via a helical conveyor equipped with a separating facility. At the end of the cycle, the robot will remove the finished parts and deposits them in small boxes. The image processing system Cognex Insight will carry out an optical quality control function. A positive result: consistent parts weight of 0.004 gram, accurate product (outer diameter = 3.2 mm, shaft diameter = 0.3 mm), dimensions and weights are within the range of tolerance, i.e. +/- 0.2 percent. The cycle time is below eight seconds, reject rates as good as zero. With regard to the implementation of customer specific automation solutions, the cooperation between Fanuc and Robotec Solutions AG works extremely well.
The Roboshot electric IMM operates with extremely low energy consumption. Its control monitor indicates the actual power consumption and regenerated power in a graphical and a numerical display. Also, the accumulated power over a specified period, the trend of power consumption and power demand are displayed. Energy savings are realized by the following features: Fanuc's superior motion control technology for high efficiency, power regeneration, and insulation of the heating zone.
The feature of power regeneration – whereby the servo-drive motors in the Roboshot machines generate electrical energy as they decelerate – contributes greatly towards energy efficiency.