Arburg is presenting "smart" machines, processes and turnkey solutions for efficient plastics processing in Hall A3, Stand 3101, at the Fakuma 2017. After Arburg heralded the future of injection moulding at the K 2016 with the world premiere of the large hybrid Allrounder 1120 H, the next step now follows: at the Fakuma 2017, a hybrid Allrounder 920 H will be presented for the first time with a new design and new Gestica control system. Further highlights are a practical Industry 4.0 application for flexible injection moulding in single-unit batches, the production of ready-to-use LSR/LSR watches within the injection moulding cycle, newly qualified materials for industrial additive manufacturing as well as high-speed packaging application. Arburg will also have a recruiting stand in Friedrichshafen.
"As a co-founder of Fakuma, we are proud to have been part of the event from the outset and to be the largest exhibitor at the 25th edition of this successful trade fair in 2017. With ten machines on our own stand and eight more on partner stands, our focus this year will again be on 'smart' and practical solutions for production-efficient plastic parts manufacturing. With over 30 years of experience in networked and flexibly automated production, we also offer everything an injection moulding machine needs in the context of Industry 4.0 – from the 'smart machine' and the Arburg ALS host computer system to 'smart services'," explains Michael Hehl, Managing Partner and Spokesperson for the Management Team. "The absolute highlights are the ground-breaking large machines. After the success of the Allrounder 1120 H, we are now also presenting the Allrounder 920 H with a new design and a new Gestica control system."
New large machines, new control system, new design
At the K 2016, Arburg celebrated a world premiere with the hybrid Allrounder 1120 H and expanded its range of clamping forces by 30 percent to 6,500 kN. In the meantime, the new large machine has been successfully used by pilot customers and can be ordered by customers worldwide from the Fakuma 2017 onwards. The next step in the direction of the future-oriented new Arburg design and new Gestica control system is the hybrid Allrounder 920 H with a clamping force of 5,000 kN. In addition to its aesthetic appeal, modern colour scheme and shape, the well-conceived design provides for enhanced functionality and significantly improved ergonomics. The innovative Gestica control system has a high-resolution full-HD screen and uses industrial multi-touch technology to reproduce to the "look and feel" of smart mobile devices.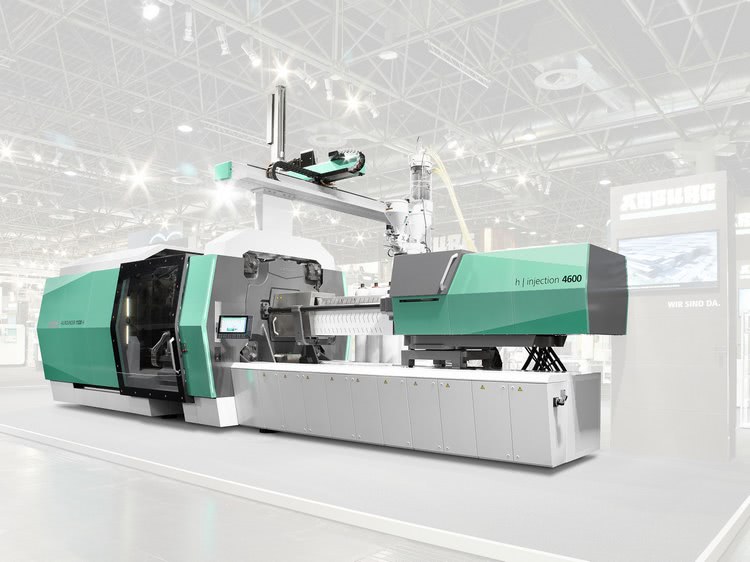 Arburg's new hybrid Allrounder 1120 H with a clamping force of 6,500 kN, new design and new Gestica control system can be ordered from the Fakuma 2017 onwards. Photo: ARBURG