1670 companies from 34 countries will exhibit on 915,000 square feet of floor space at the 21st Fakuma international trade fair for plastics processing, which will take place at the Friedrichshafen Exhibition Centre from the 18th through the 21st of October.
And thus all twelve exhibition halls, as well as both foyers, will be occupied. A third of the exhibitors come from outside of Germany. Users and processing companies will gather information about machines, finished parts and raw materials for the plastics industry.
This year's trade fair focal points include lightweight engineering, reduced materials consumption, efficient use of resources by means of recycling and energy-efficient manufacturing. Event promoter Paul E. Schall expects more than 38,000 visitors this year. "Fakuma has become the most important technical trade fair for injection moulders over the past 30 years, and is the number one event for this industry sector", said Schall at the opening ceremony.
At the last Fakuma in October 2009, 1541 companies from 30 countries exhibited at the trade fair facilities. Over 37,000 expert visitors from more than 90 countries gathered information on-site, 23% of whom came from outside of Germany. At the first Fakuma in 1981, sixty plastics companies presented their exhibits on 43,000 square feet of floor space. Roughly 20 of them are still participating today.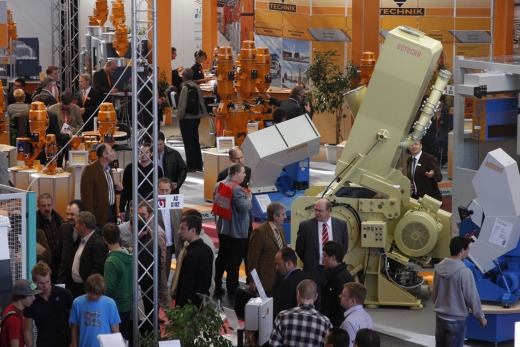 "Its international alignment, personalised consultation and unique atmosphere make this trade fair an unmistakable event", stressed Andreas Brand, Mayor of the City of Friedrichshafen, at the opening ceremony. Ever since its very beginnings, Fakuma has maintained high standards and enjoyed increasing exhibitor interest. "It's a genuine highlight in the trade fair calendar at the Friedrichshafen Exhibition Centre. And this is why the city of Friedrichshafen and the trade fair have invested in expanded trade fair facilities, thus offering Fakuma an opportunity for further development", added Brand.
"Fakuma has remained a meeting place for mid-sized companies right on up through today, who gather information regarding future technologies and exchange ideas with competitors", said Ulrich Eberhardt, managing director of motan holding GmbH and spokesperson of the exhibitor advisory committee, regarding Fakuma's significance for the industry. He also indicated that the automotive industry is an innovation driver in the injection moulding sector. "In the meantime, the amount of plastics used to produce a European passenger car accounts for 15% of its weight on the average. In ten years this figure will have increased to 25%, predicts Eberhardt.
Professor Dr.-Ing. Martin Bastian, managing director of the Southern German Plastics Centre (SKZ), has summarised the market situation and trends for German plastics processors as follows: "After noteworthy growth during the first half of the year amounting to 13%, the industry's overall mood is positive at the moment." He also indicated that growth was generated for the most part by the packaging sector, consumer goods and technical components.
"But profits are still unsatisfactory due to rising, highly volatile energy and raw materials prices", added Bastian, who is expecting a sideways trend at an adequately high level for the coming months. The way he sees it, trends in plastic processing include further piece price reductions, energy-optimised production and improved sustainability with regard to product use which, he says, will be accomplished by consistent further development in the field of lightweight engineering.
This type of development involves, for example, organic sheet, as well as compounds reinforced with foams and glass micro-spheres.