Sumitomo (SHI) Demag Plastics Machinery GmbH, Schwaig/Germany and its Chinese subsidiary Demag Plastics Machinery (Ningbo) Co., Ltd. will be exhibiting at the Chinaplas from 18 to 21 April 2012 in Shanghai/China. On stand E2J41 in Hall E2, the German/Japanese injection moulding machine builder will be showing a total of five machines, including two models of its Systec C all-purpose machine from Chinese production. As the successor to the Systec C series, the exceedingly versatile series of hydraulic machines is equipped with various technical features for the lowest possible energy consumption.
In order to serve Chinese plastics processors with their high and increasing expectations on production efficiency, durability and reliability by providing economical injection moulding technology, Demag Plastics Machinery (Ningbo) and Sumitomo (SHI) Demag have consistently adapted their portfolio of machines produced in China to the needs of Chinese injection moulding companies.
As a result, the company is phasing out its former Dragon (500 to 1,500 kN closing force) series with the Systec C series. The fully controlled, hydraulic all-purpose machine is now available with 12 sizes and a comprehensive range of modules in the closing force range from 500 to 10,000 kN. Demag Plastics Machinery (Ningbo) Co., Ltd. is offering its Systec C with a hydraulic closing unit – from 500 to 1,200 kN with a fully hydraulic knuckle-joint closing system and from 1,300 to 10,000 kN with a hydromechanic knuckle-joint closing system. Four sizes of injection unit are available for each closing force category. As a fully controlled, hydraulic all-purpose machine, it can be used for manufacturing a wide variety of plastic parts for practically unlimited consumer segments.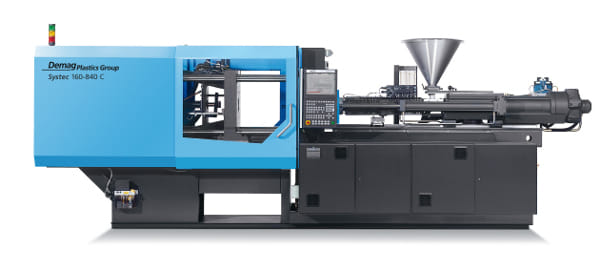 At the Chinaplas, Demag Plastics Machinery (Ningbo) will be showing one Systec 100-430 C with 1,000 kN closing force and one Systec 160-600 C with 1,600 kN closing force.
A Systec 100-430 C with a 30 mm screw will be shown on the stand producing needle protection caps from polypropylene (PP) to be used in syringes. The 64-cavity hot channel die from Schöttli AG, Diessenhofen/Switzerland, requires high precision and performance from the Systec C with its 11 second cycle time.
A whole host of machine equipment on this exhibit contributes to reducing the specific energy consumption: The servo pump drive from Yuken offers high performance with low and efficient energy use. Improved insulation for the heating bands on the cylinder jacket reduces thermal radiation from the plasticisation unit. The Systec C on show is equipped with a robot for handling the moulded parts. Via the Euromap 67 interface, the S5 from Sepro Robotique, La Roche-sur-Yon/France communicates with the machine's NC5 controller.