Europe's first plastics road bridge is ready for use! The plastics bridge comes without nails and screws. Instead, the bridge's carriageway slab is made of fibreglass-reinforced polymer (FRP) glued onto two steel bearers. The bridge is 27 metres long by five metres wide and weighs 80 tonnes and can be used as any traditional bridge.
The new bridge is located near Friedberg in the German State of Hesse. It has been built on behalf of the Hessian State Office for Roads and Transport (HLSV: Hessisches Landesamt für Straßen- und Verkehrswesen) and respects the 2010 Eurocode standards - the new pan-European building code set-up by the European Commission for public construction.
Fibre-reinforced plastic will play an important role in bridge construction. While conventional reinforced-concrete bridges require a long construction period resulting in major traffic disruption, this modern plastics bridge is prefabricated and then transported as a unit to the construction site. The total installation takes less than one single day!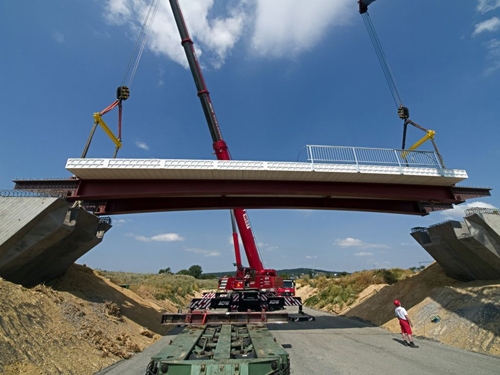 In terms of costs the plastics bridge is far more competitive than the traditional ones. With conventional bridges, extensive maintenance work is often required after as little as 15 to 20 years. The plastic bridge, however, is ideal for a long-term approach and is expected to last up to 50 years without repairs, as the composite material does not suffer corrosion. Modern architectural materials should be robust and durable, while offering environmental benefits and at the same time allowing the greatest possible design freedom. Plastics provide an excellent solution to these challenges.