Further developments also open up extended possibilities for the Vacurema technology, especially when processing PET bottle flakes to produce rPET that is suitable for food contact as documented by many national and international certification organisations.
The newly developed, compact, space-saving inline crystalliser, for example, enables processors to keep to a reliable acetaldehyde (AA) content of under 1 ppm in the recycled PET pellets.
The required IV value, according to the application, can be achieved flexibly in the process through the modular Vacurema concept with the Basic, Advanced and Prime (IV values similar to virgin PET) technology phases.
All Erema recycling systems will continue to feature the ecoSAVE technology introduced in 2010. This reduces the already very low specific energy consumption of this recycling technology by up to an additional 10%. Processors not only save energy costs, but they also play an active part in climate protection by further reducing CO2 emissions.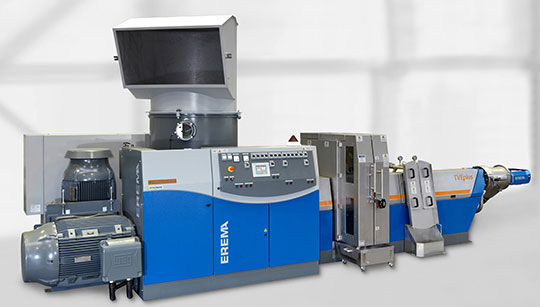 Presented for the first time at the last K show, 3S now offers armoured screws using the Lasex (controlled metal build-up) laser process up to a length of 6 meters and diameters ranging from 50 to 500 mm.
As an example, the armouring of screw threads with the widely used PTA (Plasma Transfer Arc) process achieves hardnesses of around 50 HRC (Rockwell). The new Lasex process reaches 57 HRC, thus increasing the service life of the screws considerably.
Additionally 3S will be focusing on the presentation of wear-resistant cylinders for conical double screw extruders plus a new wear measuring system for conical double screw extruders.
Since it was founded in 1983 Erema has specialised in the development, manufacturing and worldwide distribution of plastic recycling systems and technologies for the plastics processing industry. With its own sales and service companies in the USA, China and Japan, plus around 50 local representatives in all five continents, Erema provides custom recycling solutions to match almost any individual application requirements. Innovative, stable technology and global service support ensure that owners enjoy the maximum benefit from their machines. Erema technology has become established as a global, leading standard for a wide variety of recycling tasks, ranging from the recycling of polyolefins to polyester (PET).