The fully electric Engel e-motion injection moulding machine series is predestined for applications in clean rooms with encapsulated drives, sealed toggle, smooth surfaces and an encapsulated barrel.
An exhibit by the Engel technical moulding business unit just goes to prove that automation doesn't necessarily involve using more space. An Engel victory 330H/200V/120 combi will be producing bottle openers in two-component injection moulding with in-mould labelling and insert technology. An Engel viper 12 type linear robot insert-places both the metal part and the decorative foil into the mould - manufactured by FKT. The basic body of the bottle opener is first injected in polycarbonate. In a second step, the edge is reinforced with TPE to achieve a better grip.
Thanks to the Engel victory machines' tie-bar-less design, the robot can reach into the mould cavity from both sides, thus supporting automation on a very tight footprint. Both the robot and the magazine for the metal inserts and foils are inside the machine's safety guarding.
The tie-bar-less machine design enables smaller injection moulding machines to be deployed than the mould size would normally dictate, which also cuts back on the space requirement. Moulds are relatively large in multi-component applications in particular, and comparatively low clamping force is required on account of the rather small part surfaces projected. Where a clamping unit operates without tie-bars, the mould can project beyond the edges of the mould fixing platens.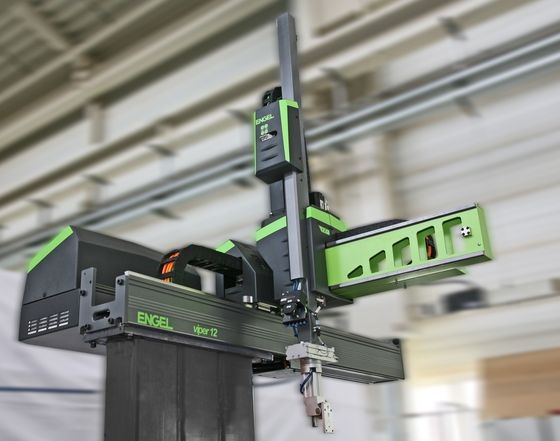 The Engel packaging exhibit also achieves maximum integration. A fully electric Engel e-motion 740H310W/180 T combi is used to produce a lid for a newly-developed ice-cream container in two-component injection moulding with in-mould labelling and thin-wall technology. The Engel system partners for this exhibit are H. Müller in Conthey/Switzerland, the leading manufacturer of moulds and automation solutions for IML applications, and the Weidenhammer Packaging Group with its head offices in Hockenheim/Germany, the manufacturer of the ice-cream container.
Fully electric injection moulding machines like the Engel e-motion continue to make inroads into the packaging industry, especially in the field of high-performance and quick running applications. Cycle times of less than 5 seconds and injection speeds of 450 mm per second are now feasible – this is a performance class that was previously the domain of energy-intensive accu machines. Thanks to continuous ongoing development, the Engel e-motion machines combine maximum precision with ultra-short cycle times and minimal energy consumption.
The now complete series of Engel viper robots will not just be on show with the other exhibits, but as stand-alone machines. Representing the new generation of Engel linear devices, an Engel viper 12 will be taking the trip to Friedrichshafen - this is the fastest robot in its load bearing class in international comparisons. The viper robots impress with a high load bearing capacity, excellent positioning accuracy, and highly dynamic action. Thanks to intelligent software such as vibration control, or mass identification, the robots reduce their structure-borne vibration, even with longer axis dimensions, and optimise their movements and dynamic values to achieve better efficiency. What this means is: shortest cycle times and maximum productivity with low energy consumption.
Viper robots are not just deployed on Engel injection moulding machines. More and more plastics processors are ordering Engel viper robots for third-party injection moulding machines, or to replace legacy equipment with the aim of improving productivity in manufacturing. Five sizes with nominal load bearing capacities of between 6 and 60 kg are available.