Engel teletronics: Maximum efficiency for even the smallest precisions components
In the electronic and telecommunication sectors, it is necessary to combine energy efficiency with maximum precision and flexibility. And yet, as the demands for quality increase, part sizes are decreasing. In order to meet these requirements while keeping costs low, Engel has expanded its Engel e-motion series of all-electric injection moulding machines with a small, tie-bar-less variety. As the first injection moulding machine developed in Europe, the Engel e-motion 30 TL with a clamping force of 300 kN is capable of producing optical lenses for mobile devices with a maximum form deviation of just a few µm. Equipped with an 8-cavity mould and an integrated Engel viper 6 robot, it will demonstrate this at Chinaplas 2014.
For the small, tie-bar-less Engel e-motion machine, a new frame concept was developed that enables a really light and very short machine design. With a length of only 3 metres, the Engel e-motion 30 TL is the shortest 30-tonne machine with all-electric drive technology on the market. In addition, the barrier-free mould space allows for comparatively large moulds. Both aspects greatly reduce the footprint of the plant, which is an important efficiency factor, especially in clean room production.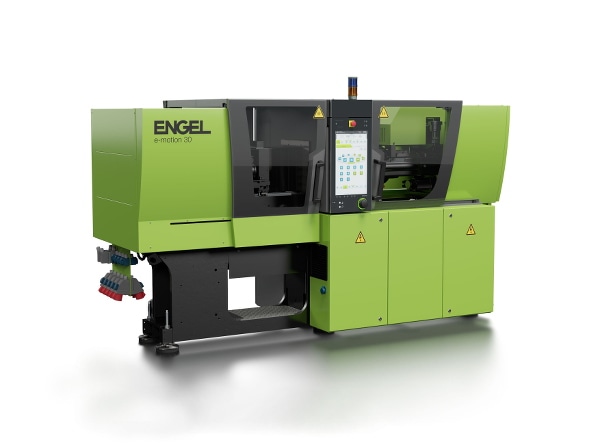 Engel packaging: Fully electric for maximum performance
The business unit Engel packaging will also be presenting an all-electric injection moulding machine in Shanghai. 500 ml food containers will be produced on an Engel e-motion 440/160 featuring a 2-cavity mould by Glaroform (Näfels/Switzerland). The containers will be decorated using in-mould labelling (IML). The high-performance IML automation comes from BECK automation (Oberengstringen/Switzerland), and the foils from Viappiani (Mailand/Italy). The auxiliary equipment partners are Piovan of S. Maria di Sala in Italy and ef cooling (Dällikon/Switzerland).
The ongoing development of the Engel e-motion series has increasingly established these machines in the area of high-performance applications in the packaging industry. The newest machine generation is able to achieve cycle times easily under 3 seconds and injection speeds of more than 500 mm per second, thereby combining maximum performance with maximum energy efficiency. The closed system for toggle lever and spindle always guarantees optimal, clean lubrication of all moving machine components. This makes the Engel e motion even in regulated production areas - for example, in the production of food packaging - the preferred type of machine.