Rhodia is extending its TechnylStar high-flow polyamide 66 technology to a new generation of unfilled grades that demonstrate unmet performance in terms of energy consumption reduction.
Unfilled TechnylStar has been specifically designed for mass-production applications requiring short injection cycles and complex molds. It is particularly well suited to small parts made in high volumes, including cable ties, clips, connectors, plugs and technical valves for the automotive, electronics and consumer and industrial goods industries.
Compared to traditional polyamides available on the market, this ultra-high fluidity range shows, in optimal processing conditions, significant energy savings through reduced processing temperatures, providing a reduction up to 20% in global energy consumption. In addition, the unequalled fluidity of unfilled TechnylStar increases injection molding productivity by up to 15% and ensures high freedom of design, while keeping all the mechanical properties essential to the application.
"This new-generation TechnylStar perfectly illustrates Rhodia's ability to develop breakthrough innovations that preserve non-renewable resources," says François Hincker, President of the Engineering Plastics activity of Rhodia. "We are proud to offer advanced materials that combine the highest quality standards with the best energetic performance, and I am convinced our global customers will follow us in this commitment to reduce the environmental impact of the industry".
This extension of TechnylStar technology was developed by Rhodia's local teams in Brazil, providing a perfect example of the added value brought by the company's global presence. "Benefiting from industrial and R&D assets and expertise, our teams in Brazil contribute every day to Rhodia's leading position in innovation", comments Marcos Curti, Rhodia Engineering Plastics Director for Latin America. "I have no doubt that this new range will become a market reference, allowing our customers all over the world to make an important step towards reduced energy consumption and increased productivity."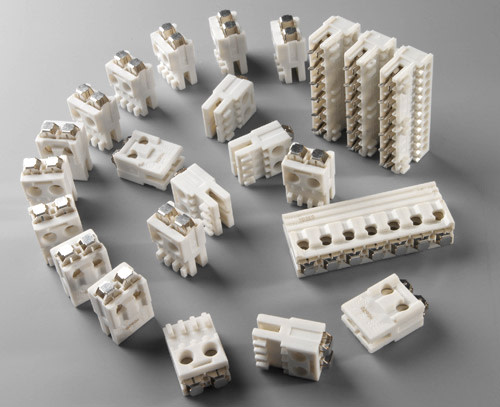 The Rhodia new generation of unfilled TechnylStar is particularly well suited to small parts made in high volumes like connectors.
Listed for the third consecutive year in the Dow Jones Sustainability Index (DJSI World) as one of the top-performing chemical companies worldwide in the area of social and environmental responsibility, Rhodia considers sustainable development as a source of innovation and as a key part of its growth strategy.