From individual injection molding machines to highly integrated production cells, ENGEL delivers tailor-made solutions to the injection molding industry. Developing customer-specific solutions requires more than technological know-how. It relies on understanding and efficiently implementing the customers' individual requirements. To achieve this, ENGEL aligns its industry expertise in five business units, and this not only at its headquarters in Austria. Three years ago, ENGEL Machinery Inc., based in York, Pennsylvania, appointed dedicated business unit managers for North America, and has since then continuously reinforced its local industry know-how as well as application technical capacities. "The feedback of our customers is excellent. The most recent successes confirm that we are on exactly the right track", reports Mark Sankovitch, President of ENGEL Machinery Inc., ahead of the NPE2018. "We can respond to the requirements and requests of our customers in the various industries even faster, and provide them with more targeted support in solving their very individual challenges. As a systems provider, we are increasingly accompanying our customers throughout the entire life cycle of the machines and systems – this is the trend that we are addressing with the new structure."
From automotive to technical molding, to teletronics and on to medical and packaging: Each industry presents its specific challenges, even though the principal trends may be the same. Process integration and automation are continuing to gain importance in North America. At the same time, the producers have increased their focus on the topics of digitalization and networking. What these trends have in common is that they result in more quality, efficiency and cost-effectiveness, but also in a higher complexity of production processes." As a systems solutions provider, we ensure that even complex processes can be easily and securely controlled", states Sankovitch. "This will be clearly represented by the exhibits at our trade show booth."
Automotive: Premium interior components at low cost per unit
For the first time in North America, ENGEL will present a fully automated, integrated production cell for the DecoJect process. This technology combines injection molding and IMG (in-mold graining), opening new possibilities for the production of premium interior automotive components. As opposed to conventional in-mold decorating processes, DecoJect does not simply transfer the paint from the foil to the component, but rather the foil is punched out and remains on the component. This way, in addition to color and pattern, surface structure and haptics are also addressed. At the same time, it significantly increases the scratch-resistance of the surfaces. "Even for smaller production runs, DecoJect provides us with an extremely cost-effective possibility of optically upgrading injection molded components and coordinating surfaces in the vehicle interior", emphasizes Larry Alvey, Manager of ENGEL's Automotive Business Unit in North America.
During the NPE, ENGEL will produce interior upper door trim with various surface structures on a duo 5160/1000: From a refined leather grain, including the seam, to a modern carbon look. The DecoJect thin foils were developed by Benecke Kaliko, a member of the Continental Group based in Hannover, Germany.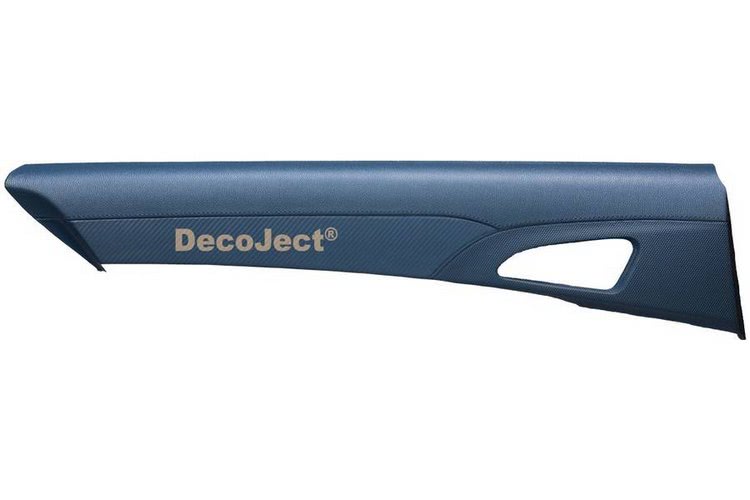 Even large interior components can be cost-effectively manufactured using DecoJect. The desired surface characteristics such as color, structure, robustness and feel are provided through the foil.