In Bangkok, the e-mac injection moulding machine makes this impressively clear. Equipped with the iQ weight control system, it detects fluctuations in the environmental conditions and in the raw material, and automatically compensates for these shot by shot. Throughout the entire process, it maintains a consistent melt volume, thereby preventing the production of rejects.
ENGEL is presenting two more assistance systems in Bangkok: iQ clamp control and iQ flow control. While iQ clamp control calculates the mould breathing in order to determine the optimal clamping force and automatically adjust it, iQ flow control optimises the mould temperature control. To achieve this, the software connects the electronic temperature control water manifold e-flomo with the temperature control unit, and is thereby able to continuously adjust the pump speed to the actual requirement. This results in even higher energy efficiency.
Minimising downtime
In order to increase the availability of machines and productions cells, inject 4.0 relies on online support, remote maintenance, and predictive, condition-based maintenance. e connect.24 is the online support and remote maintenance tool through which ENGEL customers can send an emergency call for help to their machine builder partner at any time of the day or night. Via a remote connection, the ENGEL specialists immediately begin to look for the cause. In many cases, they can help directly over the internet, saving the processor a time-intensive and possibly expensive on-site visit by a service-technician. In this way, down times are minimised.
With e-connect.monitor, ENGEL even makes it possible to inspect the condition of process-critical components such as plasticising screws during operation and to establish a reliable prognosis of their remaining useful life. With this condition-based, predictive maintenance, the useful life of machine components can be fully utilised without entailing the risk of unplanned system downtime.
Capacity increased for South East Asia
In order to be able to fulfil the specific requirements of plastics processors in the extremely dynamic developing markets of South East Asia in an even more targeted fashion, in the autumn of last year ENGEL further developed its sales structure in South East Asia. The responsibility for the individual subsidiaries and representative offices was combined, and Romain Reyre was appointed as President South East Asia. At the same time, the service team was reinforced and a regional hub for the supply of spare parts was opened. For the first time, ENGEL South East Asia now has its own service manager with cross-national responsibility, who is based in Bangkok. "The new structure is showing results", reports Reyre. "Over the past months, we were able to further strengthen our position in South East Asia."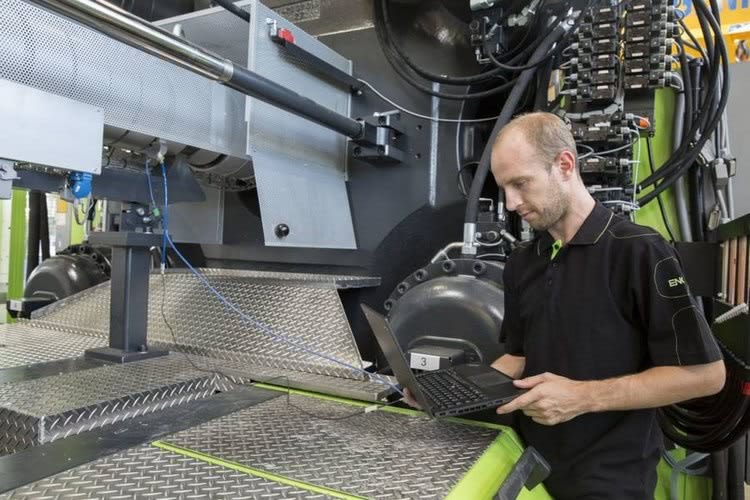 To evaluate the condition of a plasticising screw, it no longer needs to be uninstalled. e connect.monitor looks into the interior of the barrel
On the whole, ENGEL's growth in Asia is especially robust. Among other factors, the machine builder has the consistent investments into its regional sales and service subsidiaries and production plants to thank for this continued success. ENGEL is the only European injection moulding machine builder producing injection moulding machines at three locations in Asia – in China and Korea – and can therefore guarantee its customers short delivery times, fast service, and the flexible adjustment of products and system solutions to regional requirements. The e-mac injection moulding machine presented at the T-Plas was also produced in Asia, at the plant for small and medium-sized machines in Pyungtaek City, Korea.
Since it was founded in 1945, ENGEL has been 100 percent family-owned and independent of external investors, thus guaranteeing both customers and employees stability and a long-term perspective. In the 2016/2017 financial year, ENGEL achieved sales of more than 1.36 bn Euros. ENGEL employs more than 6,000 people worldwide.
Source: ENGEL