DuPont Performance Materials (DPM) announced the launch of a range of exciting new product lines for the automotive, wire & cable, and electric & electronic markets. New innovations include DPM's latest halogen free grades, an expansion of its thermal conductive resins portfolio, a new electrically friendly polymer line, innovative rubbers for wire and cable compounders, and the company's latest high performance polymers for injection and blow molding processes.
These latest offerings exemplify how DPM imagines and shapes solutions, resulting in cutting edge products that, not so long ago, were no more than creative ideas. DPM's innovative solutions allow the world to think differently and challenge the design and functionality of existing products. At the heart of this is continuous investment, an outstanding network of experts, and excellent collaboration throughout value chains.
New halogen free thermoplastics portfolio
DuPont Zytel FR 95G25 V0NH and DuPont Crastin FR684NH are DPM's latest halogen free grades. With these grades, DPM establishes a portfolio of non-halogenated flame retardant thermoplastics that offers lower density and higher flow alternatives to existing halogenated material. These solutions for electrical component applications stand out on the basis of a high Comparative Tracking Index (CTI), and their long-term reliability, safety and industry leading performance at high temperatures. Their performance properties additionally allow for miniaturization and cost reduction.
Zytel FR 95G25 V0NH can be used in particular for switches and relays, as well as for contactors, industrial circuit breakers and electrical insulation systems. It combines high temperature performance with excellent electrical properties, and its melt stability and low mold deposit lead to higher productivity.
Complying with the European regulations (RoHS, WEEE, REACH), Crastin FR684NH is especially suitable for injection molding. Its performance properties make it a solution for lightweight applications, and translate into environmental sensitivity and recyclability. A balance of stiffness and toughness also offers great versatility to designers.
Electrically friendly polymer line extended with two grades
DPM has expanded its Electrically Friendly (EF) product line in its DuPont Zytel portfolio with the introduction of PA 66 15%, 25% and 30% glass reinforced and with PA 6 30% glass reinforced grades. These grades have been developed specifically to prevent contact corrosion, which can lead to a failure of different electric parts. As a result, the new grades ensure higher reliability of electrical and electronic automotive components. What further differentiates these new EF grades from standard grades are their higher electrical properties, which allow for the miniaturization of electric parts.
New thermal conductive resin
To improve thermal management of Electric Components, DPM has developed a new thermal conductive polymer in the Zytel family. DuPont Zytel FR73200TC is unmatched in its cooling abilities, offering a unique combination of thermal conductivity, mechanical properties and electrical insulation. Designed to resist heat, it does not only reduce costs and weight, but also boost efficiency and ultimately help create devices that last longer. This resin offers design flexibility as well as environmental sustainability.
New rubbers for wire and cable producers and compounders
DuPont Entira HPE 100 and 200 are DPM's new and innovative rubbers for wire and cable producers and compounders. Entira HPE 100 and 200 represent a ground-breaking new offering in the Ethylene Vinyl elastomer (EVM) market with a Vinyl Acetate (VA) content above 40 wt%. They are unique due to their high polarity and thermal stability, and low glass transition temperature. Flexible by design (including at low temperatures), oil and heat resistant, compatible with high filler loadings, as well as processability, Entira HPE 100 and 200 make these elastomers a specialty solution for the design of high performance halogen free flame retardant cables.
DuPont Zytel XT70G35HSL & Zytel XT70G50HSL
Zytel XT series are DPM's latest high temperature PA66+PA6 product family. The development of these series addresses the increasing needs for cost efficiency and high temperature resistant materials for air management systems. Zytel XT offers an excellent balance in processing (injection molding & welding) and provides mechanical properties at a continuous temperature up to 200˚C, with peaks as high as 220˚C. In addition, it delivers outstanding key properties like fatigue, stiffness at in-use temperature of turbo charged engine environment. Zytel XT grades will soon be available with a glass fiber content of 35% and 50%.
DuPont Zytel BM74G18HS
Zytel BM74G18HS is DPM's latest addition in its polyamide PA66 + PA6 glass filled blow molded portfolio for hot side rigid air ducts for turbo charged engines. The grade has excellent heat ageing resistance up to 210˚C in continuous temperature and 230˚C in peak temperature combined with outstanding durability. Key differentiating factors in easy 3D suction blow molding process specifically include its: parison strength, low crystallization speed, and good die swell in comparison to other high temperature polyamide glass filled blow molded materials.
DuPont Hytrel HTR8808
Hytrel HTR8808, DPM's new developmental TPC-ET blow molding high temperature grade, was developed to produce pressurized hot side air ducts targeting some small turbo gasoline engines. This grade enables customers to create one fully integrated and flexible blow molded duct. This can replace the conventional rigid air duct made of metal or polyamide 6 glass filled material, the turbo hose(s) made of rubber, and textile reinforcement, and offers an alternative to the injection welded duct. The benefits are many, including the potential to save 20 to 50% weight and to save costs up to 30%, as well as the reduction of the number of components and matte surface aspect. Hytrel HTR8808 offers an optimal balance of stiffness and heat resistance up to 160°C as continuous temperature that also allows for good pressure resistance and design flexibility.
DuPont Zytel LCBM6301
Zytel LCBM6301 polyamide long chain was developed in response to automotive air management line challenges pertaining to chemical resistance and product durability. Zytel LCBM6301 is a new DuPont PA612 blow molding solution that offers a better balance of acid condensate resistance + thermal resistance respectively versus PA6 Flex & PA12. With this commercial grade, DPM targets the market of flexible thermoplastic - Positive Crankcase Ventilation (PCV) tubes and Exhaust Gas Recirculation (EGR) sensor tubes. In addition, Zytel LCBM6301 simultaneously offers an innovative full integrated solution with 3D Suction Blow Molding, for flexible automotive coolant pipes and Selective Catalyst Reduction (SCR) tubes.
DPM closely cooperates with partners across a range of sectors to develop solutions that not only combine functional products with aesthetic designs, effectiveness and environmental friendliness, but that also enrich people's lives and reduce dependency on fossil fuels. DPM's vibrant portfolio of products continues to give shape to smart ideas and provide innovative solutions to the challenges of customers and society as a whole.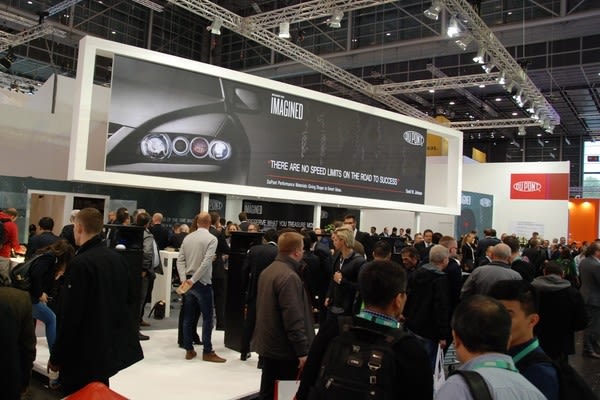 DuPont Performance Materials (DPM) is a leading innovator of thermoplastics, elastomers, renewably-sourced polymers, high-performance parts and shapes, as well as resins that act as adhesives, sealants, and modifiers. DPM supports a globally linked network of regional application development experts who work with customers throughout the value chain to develop innovative solutions in automotive, packaging, construction, consumer goods, electrical/electronics and other industries.