DSM Engineering Plastics has announced the commercialization of Akulon RC, a portfolio of Recycle Content grades of PA6 for use in Automotive under-the-bonnet applications. The new material will be available from the end of 2010 – with first commercial applications expected in early 2011.
The first Akulon RC grades under development are a 30% and a 35% glass filled grade with 50% recycle content. These grades deliver a 35% reduction in carbon footprint versus their counterparts made from 100% virgin material. The development of Akulon RC aligns with the automotive industry's drive for ecologically sound and sustainable solutions.
Development partner, Mark IV Systèmes Moteurs, a leading Tier 1 automotive, supplier, is evaluating these grades for usage in under-the-bonnet applications. Raw Materials Buyer Valérie Tiddia says: "At Mark IV we are currently evaluating DSM's new Akulon RC grades for our applications. We appreciate DSM's continuous efforts to work with us on more sustainable solutions. DSM is clearly leading in their environmental approach to customers."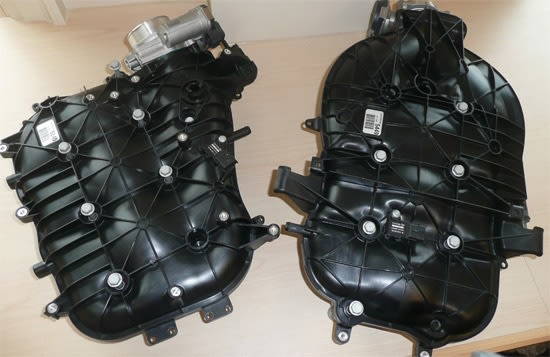 Speaking for DSM Engineering Plastics, Keith Siopes, Global Segment Manager says: "DSM Engineering Plastics is committed to expanding its environmentally aware portfolio. By focusing on eco-efficiency and sustainability, DSM drives its innovation cycle to ensure that key new product innovation and/or development meets the evolving needs of customers, whilst ensuring that products meet key sustainability objectives."
Regarding the positioning, Richard Pieters, Global Business Director Akulon/Novamid said that DSM aims "to deliver a material at quality standards that are as close as possible to virgin materials. We see this as a clear need from the industry and a change from the past, when recycle grades were often positioned as lower quality and lower cost materials."
Furthermore, Mr. Pieters mentions that today, the industry supply chain is at a level where some premium is required for high quality materials to make the RC grades feasible. The two materials, that are being launched now, have properties that are similar to those of typical standard grades. The premium pricing reflects the cost position for such grades, which Richard Pieters sees as a key investment for the future. He expects that by working with our customers and suppliers further efficiency improvements can be made.
As a strong partner to the automotive industry, DSM Engineering Plastics has introduced a range of both new materials and specific grades of existing materials, designed to deliver the required performance, whilst meeting the overall industry trends for lighter, more effective and greener solutions. Engineering plastics play an important role in this segment as they offer significant opportunities for system cost reduction, improved reliability and weight reduction for fuel economy.
As major supplier of many polymers for use at higher temperatures, DSM Engineering Plastics has a long track record in this industry, and is able to match the highest quality and reliability demands.
On part component level, DSM contributes to the industry drivers by offering innovative solutions for parts integration (e.g. Laser Direct Structuring Technology), reduced wall thicknesses (e.g Stanyl® High Flow PA46), cycle time reductions (e.g. Akulon Ultraflow PA6) and base polymer cost-down alternatives like PPA replacement by Arnite PET. Most recently, DSM Engineering Plastics has further expanded its Green Portfolio with the introduction of EcoPaXX, a bio-based, high performance engineering plastic based on polyamide (PA) 410. The new material has a zero carbon footprint from cradle to gate.