Amcor Rigid Plastics, the world's leading producer of rigid plastic packaging, has solidified the use of lightweight polyethylene terephthalate (PET) bottles for single-serve, 187-ml wine products.
Leading wineries throughout the U.S., including Fetzer, Hopland, Calif., and Cecchetti Wine Co., Sonoma, Calif., are increasingly moving to PET as a lightweight option that provides glass-like clarity, portability, sustainability advantages, and reduced cost.
U.S. wine companies have been pleased with consumer acceptance of these convenient, aluminum screw-cap bottles as well as the entry they provide into public venues that do not allow glass because of the potential for breakage. Another key feature is a unique barrier coating technology developed by Germany's KHS Plasmax GmbH which provides extended shelf life.
"The beauty of PET in single-serve 187-ml is the great convenience it affords consumers along with the distinct environmental benefits compared to glass," said James Sobbizadeh, director of production for Fetzer. "Wine packaged in PET bottles can be sold at parks, concerts, and other outdoor venues while airlines are also drawn to the lightweight and sustainability benefits."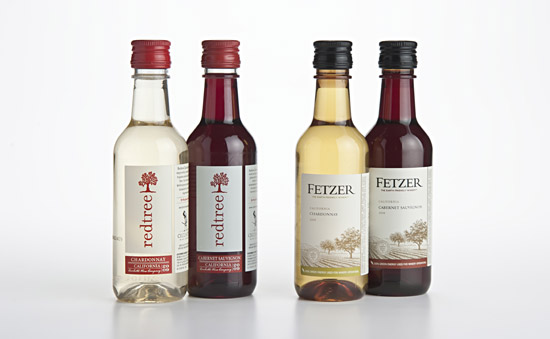 Barrier PET bottles have a unique fit in the 187-ml wine category because of the properties they afford in terms of consumer convenience and sustainability, according to Kerry Drewry, sales manager for Amcor Rigid Plastics. "We expect continued growth for barrier PET containers in not only 187-ml but a range of package sizes for wine," said Drewry.
Fetzer is the tenth largest winery in the U.S. and a leading provider of co-packing services. The company bottles its entire 187-ml line of white zinfandel, merlot, chardonnay, and cabernet wines in PET containers for sale at retail and chain stores. The bottles preserve the look of glass containers and run on the winery's existing glass filling line with minor adjustments. They are also one-sixth the weight of glass bottles, resulting in significantly reduced transportation costs and other supply chain efficiencies.
Similarly, Cecchetti Wine Company has seen strong adoption of 187-ml PET wine bottles by many U.S. airlines. The company supplies its Redtree brand of wines to Air Canada, British Airways, and most recently to Continental Airlines. Cost-conscious airlines have led the charge in conversion of glass to PET in 187-ml wine bottles, according to Roy Cecchetti, president of Cecchetti Wine Company. "Airlines see PET as a lightweight, high-quality option that mimics glass while also providing reduced fuel consumption and a cost savings," said Cecchetti.
Cecchetti offers its Redtree chardonnay in 187-ml PET bottles for Continental and sees more airlines carrying PET wine bottles to meet sustainability requirements. The winery is also targeting retail distribution in the Midwest and will explore the viability of 1-L barrier PET bottles for its wine brands.
The 187-ml PET bottle features the KHS Plasmax Silicon Oxide (SiOx) barrier coating which seals the container from the inside to protect the contents from oxidation. Plasmax is an FDA-compliant enhanced passive barrier for oxygen-sensitive products. This ultra thin (less than 100 nm) material is transparent and resistant to cracking, abrasion, and delamination. Moreover, it doesn't degrade over time nor limit the storage time for empty bottles. The barrier coating is easily removed during the recycling process and does not contaminate the recycling system.
Amcor's Drewry said the company continues to work closely with other wineries who seek alternative packaging. PET barrier technology is also being targeted at other markets for oxygen-sensitive products.