Good businesses with natural products: The "Bio-based Pavilion"
Biobased Composites PavillonWhether used as dashboard, in car door panels or as service cars in aeroplanes, wood and natural fibres such as cotton, flax fibres, hemp, jute and kenaf are increasingly gaining significance as biological composites. Together with the Nova Institute, Composites Europe shows how good sustainability can exist in light construction. More than 20 businesses exhibit their products at the fair, ranging from plastic materials made from meadow grass through to flax fleece and reinforced volcanic rock filaments.
Basalt fibre network
The basalt fibre network demonstrates that basalt also offers numerous technological options for the composite industry. At one community stand, 28 businesses and research institutes from all over Germany expose the potential of basalt fibres. Special attention to the network lies in the development of textile technological processes, as well as in the research of composites and semi-finished products.
Expanded Guided Tours products
After a successful prelude last year, the Guided Tours are being expanded this year via Composites Europe. Tours are conducted for the exhibitors based on three different topics: "Thermoplastic composites: materials, procedures and applications", "Reinforced fibres in comparison: an overview of different reinforcement systems" and "Composites in the application of wind energy". The number of participants is limited and participation is free.
Fair highlight: 1st International Composites Congress (ICC)
The highlight for COMPOSITES EUROPE 2015 is the 1st International Composites Congress (ICC), which takes place 21–22 September 2015 in Stuttgart. The congress replaces the previous AVK conference and in the future will be organised by the Trade Association of Composites Germany as a prelude to the fair. The conference documents the innovations in the area of fibre-reinforced plastics. The international podium discussion at the end of the congress addresses the question, "Composites – a key technology for high-income countries from the viewpoint of machinery manufacturers?".
New: bio!CAR Conference
With the bio!CAR, Composites Europe offers a new conference for the automotive industry for the first time, with a focus on biologically based materials in automobile construction. Its premiere celebrates the international conference at the fair from 24–25 September. The conference is organised by bioplasticsMAGAZINE in collaboration with Reed Exhibitions trade fair organisers, Nova Institute and AVK.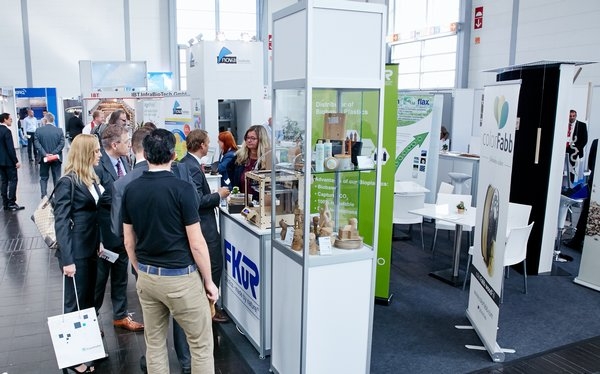 Parallel organisation – HYBRID Expo
Multi-material networks have long established themselves in automobile construction, electronics or medical technology. The HYBRID Expo, which takes place in parallel to Composites Europe, shows innovative hybrid construction solutions. The 70 international exhibitors include many branches from machine construction, tool construction, and research and development, as well as numerous suppliers of complete solutions, showing the entire process chain around the serial manufacture of hybrid components. Of particular focus at the fair are process integration and acceleration in the manufacture of metal-plastic compounds.