Novosystems is going to present its 15 Novotone Main Colors at Fakuma 2012, an international trade fair for plastics processing.
Industry standard color guides make coloration easy for all shades using liquid colors and Novopearls microbatch Novosystems will be presenting its Novotone Main Colors for the first time at Fakuma 2012. Using 15 main colors, Novotone can create the whole range of shades found in industry standard color guides.
Novotone achieves this by additive mixing of these main colors. Each individual shade found in the typical fan format color guide is created using special recipes, a full range of which is supplied with the Novotone system. One highlight of Novotone is that it can be used for both liquid colors and Novopearls microbatch.
Using standard color guides, Novotone will make coloring plastics a whole lot easier for manufacturers. Just choose the desired color shade from the color guide fan. Additive color mixing based on predetermined recipes for Novotone main colors replicate your chosen shade with very high levels of accuracy. Standard color ranges in fan format can be used to choose and check colors. If required, color measuring devices for adjusting colors or determining recipes of further colors can be deployed. Manufacturers can reproduce a very wide range of shades, quickly and cost-effectively, from just a small range of Novotone main colors. Standard color guide ranges currently cover some 2,100 color shades.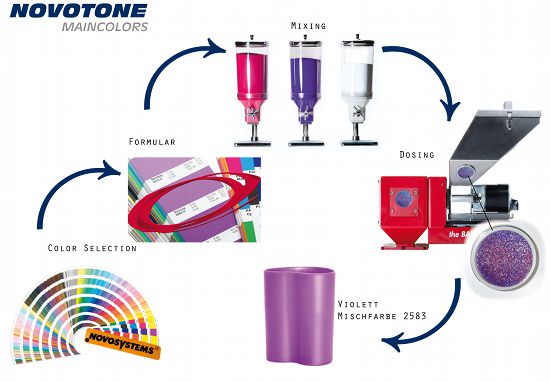 Novosystems has developed Novotone for use with liquid colors as well as for the micro-granulate Novopearls, a wax-based product. As a solid, Novopearls possess many of the characteristics of liquid colors, while at the same time making higher charge ratios possible. Novopearls also offers cost-saving benefits compared to conventional color batch material. Depending on the application, color specification based on the industry standard color guides can be used for extrusion, injection-molding and PUR. Novosystems claims that Novopearls are suitable for coloration of a wide range of materials, including bulk plastic materials such as polyolefin and PP, as well as technical plastics including ABS, PVC and PS, as well as PUR. Novopearls are suitable for processing temperatures of up to 350 °C.
Novotone doesn't only make it easy for the manufacturer to reproduce color using standard color guide systems. It's also convincing from a process perspective. Trials at test customers have shown that for most types of plastics, processing temperatures can be up to 5 – 10°C lower compared to using conventional bulk solids. These lower temperatures apply whether using wax-based Novopearls microbatch or classic liquid colors. These energy efficiency gains are due to the excellent homogenization of Novotone main colors at lower temperatures. In addition, manufacturers can take advantage of another significant effect from this method of coloration: a reduction of colorant requirements of up to 30%. Three benefits in one for the manufacturer: coloring with Novotone is easier, increases energy efficiency and saves on colorants.