From processing to secondary and end-of-line packaging, Bosch Packaging Technology, one of the leading suppliers of complete solutions in processing and packaging technology, will present its innovations in bar production at Interpack 2014, Düsseldorf, Germany. All machines are designed for simple integration with existing Bosch technology, allowing manufacturers to partner with a single-source solution provider for their entire bar production line. Bosch's modular automation capabilities to be exhibited include the new WRF 600 Flex roller former for bar production with optimized trim, the recently launched non-contact product distribution station Transver SDP and Pack Feeder 4 with the Pack 401 horizontal flow wrapper for primary packaging. In addition, Bosch will present the seamless bar line for high-speed primary and secondary packaging combined with the user-friendly Elematic 3001 case packer with improved ergonomics. Martin Tanner, director business development and marketing, product division confectionery and food, Bosch Packaging Technology explains: "By offering complete lines to the market, Bosch meets manufacturers' demands for a single-source solution provider for the full range of processing and packaging".
New flexible roller former minimizes product waste
Bosch is launching its WRF 600 Flex roller former, which optimizes or eliminates the trim when processing bar masses, including cereal, candy, protein and fruit. As a result, less product is wasted, helping decrease production costs and contribute to faster return on investment (ROI). The smooth slab former offers a flexible working width and allows for an easy, stepless and tool-free adjustment for precise cutting to produce different sizes. Unlike other machines of its kind available in the market, Bosch's WRF 600 Flex enables width changes without production stoppages, maximizing uptime and output. This also allows for maximum product usage as product is not wasted due to stoppages, contributing to faster ROI. In addition, manufacturers benefit from a hygienic design and easy tool-less cleaning.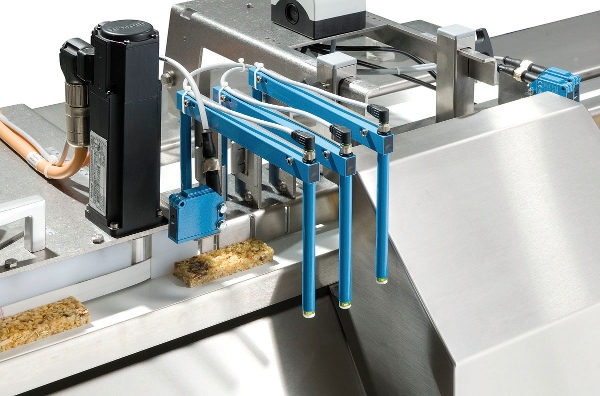 Seamless bar line generates high OEE
Bosch will conduct live presentations of its high-speed bar packaging system at Interpack. The line is capable of reaching speeds up to 1,500 bars per minute and is designed as a single, seamless system helping confectionery manufacturers to maximize production and meet increasing demands for bars. The speed of all components in the line is balanced to eliminate bottlenecks, minimize downtime and optimize production flow, facilitating high OEE. The primary packaging technology of the bar line on display at the show comprises the Sigpack DCI product distribution station and the Sigpack HRM horizontal flow wrapping machine with automated precision splicer. These machines can be integrated with the Sigpack TTM toploader and the Elematic 3001 case packer to create a complete system designed specifically for the primary, secondary and end-of-line packaging of bars and bar-shaped products.