Borealis and Borouge to highlight continued innovation in plastics materials and applications at
wire
Düsseldorf.
Borealis and Borouge, the world's leading providers of innovative, value-creating plastics solutions for the wire and cable industry, will highlight their continued innovations at "wire Düsseldorf 2012." The international wire and cable trade fair will take place in Düsseldorf, Germany from March 26-30.
Borealis and Borouge supply materials for a wide range of energy transmission and distribution cables from low voltage (LV) to extra-high voltage (EHV), as well as electrical and fibre optic communication cables, under the brand names Supercure TM, Visico/Ambicat TM and Borstar. With more than 45 years of experience, Borealis and Borouge provide consistently high quality polyolefins compounds for the wire and cable industry.
Borealis was recently awarded the Frost & Sullivan 2011 Europe Product Leadership Award in High Voltage Direct Current (HVDC) Cable Insulation Market, illustrating the continuous commitment in providing high quality, market and customer driven solutions. Borealis and Borouge set themselves apart from others in the industry with their extensive experience; understanding the market demands and capacity to go above and beyond market demands.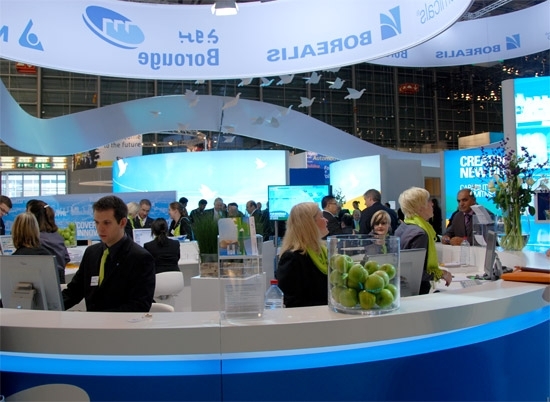 At wire Düsseldorf 2012, technology leaders Borealis and Borouge will offer insight into their innovative approach to develop and produce solutions with their unique proprietary technology for power cables.
Through this world-class technology, it is possible to produce cross-linked polyethylene (XLPE) insulation and semicon products with consistent quality and the highest purity. This is primarily enabled through the application of a closed production loop – from the monomer to final packaging. Consequently this gives power cable manufacturers the opportunity to enter high end and most demanding applications with XLPE cable solutions such as EHV and DC power cables.
"As leading innovators in the wire and cable industry, Borealis and Borouge have proven to be long-term, reliable assets to the industry," says Marc Hubert, Borealis' Vice President for Wire and Cable. "With our proprietary technology for XLPE and semicon compounds, we have invested in our future and that of our customers and will continue to provide them with new, exciting innovations. I encourage our existing and potential new customers to visit us to find out more about our unique proprietary technology and the corresponding latest power cable solutions which will be revealed on our stand."