Borealis was recently awarded the Frost & Sullivan 2011 Europe Product Leadership Award in the High Voltage Direct Current (HVDC) Cable Insulation Market.
Borealis, a leading provider of chemical and innovative plastics solutions, was presented with the Frost & Sullivan 2011 Europe Product Leadership Award in HVDC Cable Insulation Market during an awards banquet in London on September 29, 2011.
The Product Leadership Award is a prestigious recognition of Borealis' accomplishments in the HVDC cable insulation market, where Borealis has played a pioneering role by introducing crosslinked polyethylene (XLPE) based insulation compound Borealis Superclean LE4253DC.
As a result of its high electrical breakdown properties, Superclean LE4253DC brings performance reliability improvements to HVDC cables. The compound offers the right balance between space charge accumulation, conductivity and DC breakdown strength and allows cost effective manufacturing in conventional CV lines. HVDC cables made with LE4253DC/LE0550DC from Borealis are qualified and meet Cigré recommendations.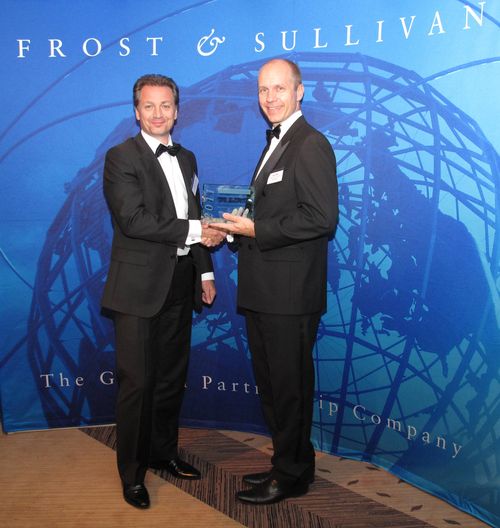 Marc Hubert, Vice President for Borealis Wire & Cable comments, "Borealis is the only company with a track record of 45 years of experience in developing and manufacturing XLPE and supplying compounds for HVDC XLPE cables for more than ten years. The Frost & Sullivan Product Leadership Award confirms that Borealis maintains its continued focus on innovation to meet market demands."
The Frost & Sullivan Research Team benchmarked Borealis' new product against key competitors across a number of criteria, including innovation, product quality, features and functionality, product acceptance in the marketplace and customer value enhancements.
According to the Frost & Sullivan report, the market has slowly witnessed a shift from traditional mass impregnated paper (MIP) insulation to much more advanced extruded polymeric insulation systems based on XLPE. This has been possible only because of extensive focus on understanding the end application as well as continuous product development to meet the customer's exact requirement. The main challenge for the market participants has been in adapting the products to be used on conventional cable production lines for HVDC applications.
"Borealis, through its in-depth understanding of the HVDC cable application, as well as concrete focus on developing products specifically to match the unmet needs of their customers, has consolidated its leading position in the future. Cables manufactured with Superclean LE 4253 DC XLPE insulation ensure faster installation, lower electric losses, higher operating temperature, improved transmission reliability and have a lower environmental impact compared to traditionally used insulation systems," says Deepak Karthikeyan, Senior Research Analyst, Chemicals, Materials and Foods, Frost & Sullivan.
Marc Hubert concludes, "The HVDC cable insulation market continues to develop with high growth expected in the future. We are already working on the next generation compounds to meet future market needs for HVDC."