At Interplastica 2008, Battenfeld Extrusionstechnik GmbH based in Bad Oeynhausen in Germany, will introduce its latest high-speed extruder model, BEX 2-135 V plus, to the Russian market. With its currently unrivalled output of 1,000 kg per hour in PVC processing, this parallel twin-screw extruder brings about an enormous boost in performance not only in the growth market of window profiles.
With its proven parallel twin-screw extruders, Battenfeld Extrusionstechnik already plays a leading role in the window profile market today. Thanks to continuous further development of its extrusion lines, the German machine manufacturer is optimally prepared for the next few years, when line speeds in twin-strand profile extrusion are expected to increase from 5 m/min to 6 m/min or more.
Just like its successful predecessor model, the new BEX 2-135 V plus excels by its optimal plasticizing properties, while its processing unit has been significantly improved in terms of energy-efficiency. Moreover, the twin screw extruder has been equipped with the new, powerful T1max motor with a torque of 58,000 Nm and a direct drive. Thanks to these innovative features, the extruder now reaches a maximum output of 1,000 kg per hour, which is an increase of about 30 percent compared to its predecessor model.
There is a great demand for high-performance machine concepts especially in the Russian market, which is characterized by dynamic growth in the building sector both for new building construction and renovation of existing buildings. In 2006, Russia was the second largest export market for German extruder manufacturers, closely behind PR China, with a growth rate of more than 100 percent compared to the previous year. This growth is expected to continue for the time being, not only in the window profile segment but also in profiles for building construction, fencing, decking and floor boards, which include products made from alternative materials such as wood-plastic composites.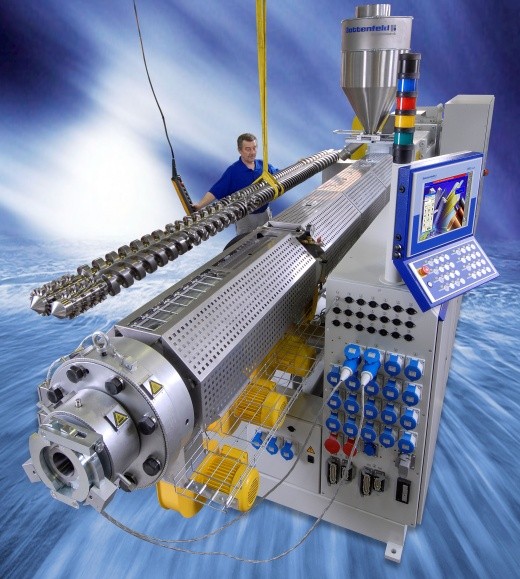 This year Interplastica will take place in Moscow from January 29th to February 1st.