The Introduction of In Stock Machines for Europe
Milacron recently launched their Quick Delivery Program (QDP) for in stock machines in the European market in July, and has seen solid success with customers taking advantage of the quick delivery machines. The Milacron QDP program helps customers get what they need, when they need it. Machines available are the all-electric Milacron Elektra from 110 to 180 metric tonnes, the all-electric Milacron Elektron EVO from 50 to 200 metric tonnes and the servo hydraulic Magna T Servo, a true workhorse from 50 to 350 metric tonnes. Machines in these configurations are delivered in as little as 4 weeks from order.
Mold-Masters Hot Runners and Control Systems
Mold-Masters Aftermarket Support Programs through MasterCARE
The plastic industry is very familiar with Milacron's Mold-Masters hot runner and temperature controller product brand. Mold-Masters has been producing the industry's leading solutions for over 50 years. What a lot of industry insiders might not be aware of is that Mold-Masters offers a comprehensive lifecycle management program to ensure their Mold-Masters systems continue to run at peak performance and continue to produce the best plastic parts. Programs offer preventative maintenance, emergency maintenance, spare parts programs and repairs and complete system restorations.
MasterCARE Preventative maintenance services are available in 3 tiers to suit customers' needs, MasterCARE Basic, MasterCARE Standard and the premium offering, MasterCARE Plus. All of the packages offer a number of vital cleanings, inspections, and tests and up to 20% discounts on genuine Mold-Masters parts. In addition, all packages offer extended warranties that help extend the life of your hot runner and get the most out of your production cell.
Hans Hagelstein, Mold-Masters President, EMEA+I stated, "Only genuine Mold-Masters parts and certified service technicians can ensure Mold-Masters hot runners and temperature controllers are operating at optimal performance levels." Hagelstein added, "Mold-Masters has implemented a thorough revitalization of our spare parts program, we realize that when a customer needs a part for their Mold-Masters hot runners they need it immediately! That's why we now stock 95% of all standard parts for immediate shipping and offer 24 hour turnaround for custom parts."
Mold-Masters also offers extensive product and service training for their hot runner systems. These courses are available at Milacron's German locations in Malterdingen and Baden-Baden or on-site at customer locations. Topics include Hot Runner Basics, E-Multi User Training and Controller Basics.
Everything Milacron at the Click of your Mouse
Milacron eSTORE
Milacron launched the eSTORE a year ago and have received overwhelmingly positive feedback while processing thousands of customer orders in North America and Europe. The Milacron eSTORE is offered in 15 languages. The e-commerce site is seamlessly integrated with the newly re-designed Milacron.com, offering a one-stop-shop for all Milacron products, including individual parts and assemblies for Milacron injection molding machines and Mold-Masters hot runners and controllers. Customers will also have access to DME's vast catalog, connecting them to an unrivaled selection of mold components and industrial supplies 24/7/365. Customers will benefit from simple, cost-efficient ordering and deliveries within 24 hours.
Milacron continues to push the boundaries of possibilities in plastics with breakthrough products from leading brands including Milacron, Mold-Masters, Ferromatik, Uniloy, DME, TIRAD, and CIMCOOL.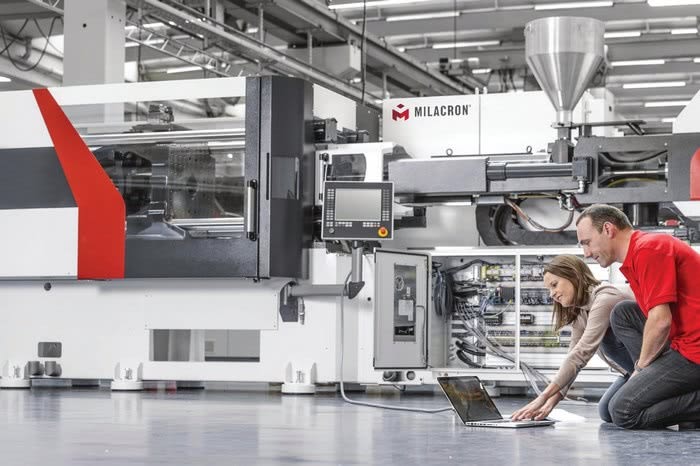 Source: Milacron