he most preferred annual event for packaging solutions and investment opportunities for food and non-food industries, Eurasia Packaging Fair and Food-Tech Eurasia Fair will be held in Tüyap Fair and Exhibition Center between the dates of November 2-5, 2016 (Wednesday-Saturday)
.
With more than 1200 exhibitors, Eurasia Packaging Fair is the most attractive and preferred annual event in its region. It's where emerging and established manufacturers of food and non-food goods discover thousands of smart solutions to achieve product 'stand out' whilst considering cost and time effective packaging production from design to completion, to meet market demand.
Embracing every element of the production stage, from processing, packaging and filling machinery to all packaging products, Eurasia Packaging Fair's global and local exhibitors of all kinds of solutions continue, after 22 years, to fulfill the specific project needs of more than 50,000 manufacturers from Turkey, East and Western Europe, The Balkans, Russia, Caucasia, Middle East and North Africa.
Packaging and Printing, Continue to Unite Forces with printpack
Printing Technologies Special Section printpack, will once again bring the packaging printing sector together in 2016 within the scope of Eurasia Packaging Fair.
Due to increasing importance of printing on packaging and distinctive investments becoming more appealing to consumers, Corrugated Cardboard–Paper–Cardboard Packaging Production Special Section Technologies printpack continues to be the most important platform that gathers Eurasia Packaging Fair 2016 participants and visitors this year.
In 2016, the sector will unite under the Printing Technologies, Corrugated Cardboard–Paper–Cardboard Packaging Production special section to meet the growing target market. Printpack Special Section, which received highly positive feedbacks from both participants and visitors in 2015, will also be held in hall 8 and 9.
Smart Solutions at Special Sections!
Drinktech, Beverage and Liquid Food Technologies Special Section: Beverage and liquid food, filling, beverage, packaging, sterilization and beverage machine and equipment producers will have the opportunity to meet target visitors from the beverage sector.
Within the scope of concurrent Eurasia Packaging Fair and Food-Tech Eurasia International Food and Beverage Technologies Fair;
SweetTech, Chocolate, Candy, Biscuit, Dried Fruits and Pastry Technologies Machine and Equipment Special Section: In SweetTech special section, companies will have the opportunity meet with the qualified visitors of food and non-food industries which have rapid increase in demand. Food production industry; chocolate, cocoa and coffee, sweet products, wafers, halva, honey, jam, dried fruits producing companies; owners, executives, production managers, technical managers, quality control managers, lab specialists of bakeries and pastry shops, bakery product producers, hotels, restaurants, catering companies, fast food companies will be the visitors of this special section.
DairyTech, Milk and Dairy Product Technologies Special Section: DairyTech special section will be launched in 2016 to bring together companies in the fields of production, filling, automation, pasteurizer and equipment and especially food, beverage, dairy and baby food producers with the target visitors.
ColdChain, Storage Systems, Cooling, Ventilation and Logistics Special Section: Particularly cold storage infrastructure, cold air-conditioning systems, refrigerators, cold chain transportation, storage and charging machines-equipments of the cold chain sector will have the opportunity to unite with food, pharmaceutical and chemical industry on the same platform.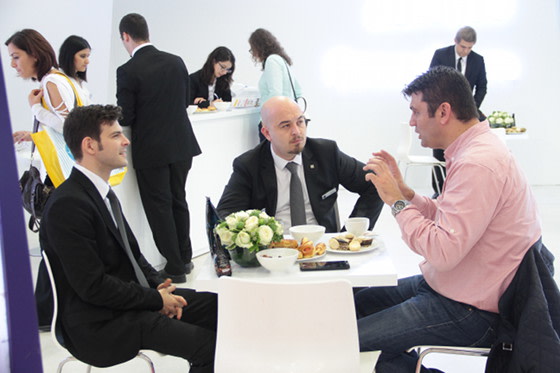 Global Interest in Eurasia Packaging Fair
Eurasia Packaging Fair promotional activities continue in Tüyap's offices abroad in Bulgaria, Russia, Georgia, Macedonia, Iran and Egypt and Reed's representatives in 43 countries additional to Balkans, Caucasus, Iran and Northern Africa regions.
Within the scope of Hosted Buyer Program organized under the coordination with Ministry of Economy of Turkey, General Directorate of Foreign Trade, hosted buyers of 825 professionals with active foreign advertising activities, besides the visitor focus country Serbia in 2016; over 5000 international company professionals from Germany, Azerbaijan, Bangladesh, United Arab Emirates, Belarus, Belgium, Bosnia, Bulgaria, Algeria, Indonesia, Morocco, Palestine, France, Ghana, Republic of South Africa, Georgia, Croatia, India, Holland, Iraq, Spain, Israel, Italy, Kazakhstan, Kenya, Kosovo, Lebanon, Macedonia, Malaysia, Egypt, Nigeria, Uzbekistan, Poland, Romania, Russian Federation, Serbia, Saudi Arabia, Tunisia, Turkmenistan, Ukraine, Jordan and Greece will be welcomed at Eurasia Packaging Fair 2016.
Reunion of Academy and Sector at Eurasia Packaging Fair 2016
5th International Printing Technologies Symposium, which aims to bring printing, publishing and packaging sectors' interdisciplinary synergy under the same platform, will be held by Istanbul University Vocational School of Technical Sciences within the scope of Eurasia Packaging Fair, on November 5, 2016 at the TÜYAP Fair Convention and Congress Center.
National Packaging Design Student Competition, organized by Packaging Manufacturers Association (ASD) and Reed-TUYAP, organizer of Eurasia Packaging Fair, aims to contribute to the career of students in the field of the packaging design as packaging professional. The results of the contest will be announced on the opening day of the fair.
Keeping It GO with the Support of Sector!
Eurasia Packaging Fair, empowered by REED Tüyap Fairs Inc. and Packaging Manufacturers Association of Turkey (ASD), as well as other organizations active in the sector including Packaging Machinery Association (AMD), Labeling Industrialists Association (ESD), Cardboard Packaging Industrialists Association (KASAD), Metal Packaging Industrialists Association (MASD), Corrugated Cardboard Industrialists Association (OMÜD) and Rigid Plastic Packaging Industrialists Association (SEPA) will take place at the Tüyap Fair, Convention and Congress Center in Istanbul, on November 2-5, 2016.