In 1986, the invention of the Arburg host computer system ALS – the first ever software intended specifically for injection moulding plants – was a pioneering achievement. It enables the networking of machines, the monitoring of processes and the documentation of settings data.
Today, ALS is a valuable tool with which injection moulders can achieve consistently high product quality and optimum production capacity utilisation, as well as minimise downtimes, significantly enhancing production efficiency.
In November 2011, on the occasion of the anniversary "25 years of ALS", Arburg invited interested parties to its German locations in Lossburg, Radevormwald and Rednitzhembach. Experts provided information on the application capabilities of the host computer system and demonstrated how it can be used to optimise efficiency in moulded part production. Some 80 managing directors, production managers and responsible ALS staff took advantage of the opportunity to share their experience and engage in individual consulting. Specialist presentations on the ALS milestones, its application for medical technology and new mobile developments completed the programme.
In 1954, Arburg developed its first injection moulding machine, initially for the company's own use. Demand was so great, however, that series production began two years later. In 1961, the Allrounder principle was then invented, enabling an injection moulding machine that could operate in several positions and paving the way for groundbreaking applications such as multi-component injection moulding.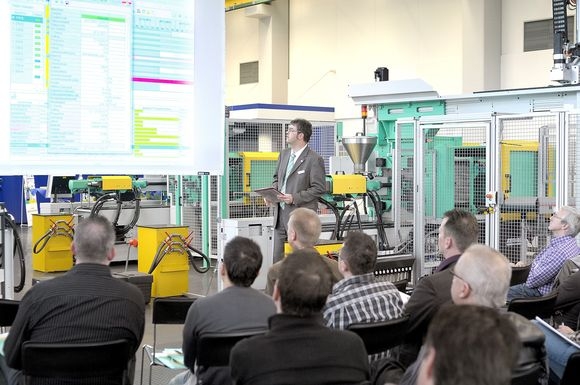 The first electronic control system for injection moulding machines worldwide was introduced onto the market by Arburg in 1972 and was followed by microprocessors three years later. From the idea of achieving "flexible automation of injection moulding" (German: FADS), the medium-sized machine manufacturer initiated in 1985 a joint project with the then German Federal Ministry of Research and Technology (BMFT).
In 1986, Arburg finally launched the groundbreaking host computer system ALS onto the market, merely five years after the PC had started to make its way into offices and homes. Up until then, no interfaces were available in the injection moulding sector, let alone software solutions for communication between machine, automation solution and peripherals.
ALS customers benefit from the extensive Arburg know-how in injection moulding technology. The machines, control systems and the host computer system are developed and produced in-house; sales and support are from a single source. Arburg has designed the practice-oriented software solution precisely in line with injection moulders' requirements regarding flawless process and part quality. Since 2009, ALS has also been SAP certified.