CSIRO scientist Wojciech Gutowski has won top honours in the 2010 Victoria Prize Awards handed out by the Victorian state government.
Associate Professor Wojciech Gutowski won the $50,000 prize for being ahead of his time in solving tough technology problems, Innovation Minister Gavin Jennings said in announcing the award.
Victoria Governor David de Kretser, AC, presented the award to Gutowski at Government House. The Victoria Prize, given out annually since 1998, honours individuals for significant scientific discoveries or technological innovations.
Gutowski's work addressed a waste problem faced by the auto industry, which uses 9.68 million litres of paints a year in manufacturing, with all solvents becoming airborne and 2.5 million litres of solids going to landfills.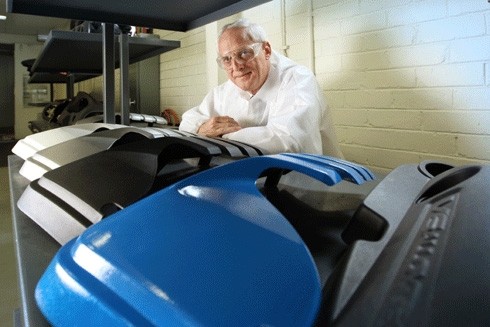 "Dr. Gutowski has developed a coating technology that uses solvent-less powder resins that enables powder coatings, paints and inks to adhere to plastics," Jennings said. "His innovation has resulted in drastically reducing the need for solvent-based paints and allows the metal body parts of cars and building components to be replaced with lighter, less expensive plastic and composite parts."
Jennings said the coating technology could revolutionise manufacturing industries that make painted plastic components for cars, furniture and buildings. He said it could save the Australian car industry at least $100 million a year and ensure it becomes cleaner and greener.
Gutowski's technology has been commercialised by Dulux. Its potential use in aerospace and bio-medical applications is being investigated.
Gutowski, chief researcher of the Materials Science and Engineering Division of the Commonwealth Scientific and Industrial Research Organisation, has received national and international recognition from, including the Banksia Environmental Award and the Premier's Eco-Innovation Award.
As part of the Victoria Prize, CSIRO's Materials Science and Engineering Division receives the Anne & Eric Smorgon Memorial Award of $100,000 from the Jack and Robert Smorgon Families Foundation.
Jennings also announced six winners of the Victoria Fellowships, an award that assists emerging leaders in science, engineering and technology. They receive an $18,000 travel grant to undertake a short-term international study mission, to receive specialist training, or to develop commercial ideas.