Vertical rotary table machine with automation
In addition to the machines from the PowerSeries, Wittmann Battenfeld will also showcase a vertical rotary table machine with an automation system at this year's K. The CM 40/210 R1280 on display will be a machine from the new CM-R series with a rotary table and 400 kN clamping force. In the CM-R40, both the tie-bar-less clamping unit and the servo-controlled injection unit are arranged vertically. The vertical C-frame design with two symmetrical clamping cylinders provides maximum free space in the mold area and thus optimal accessibility.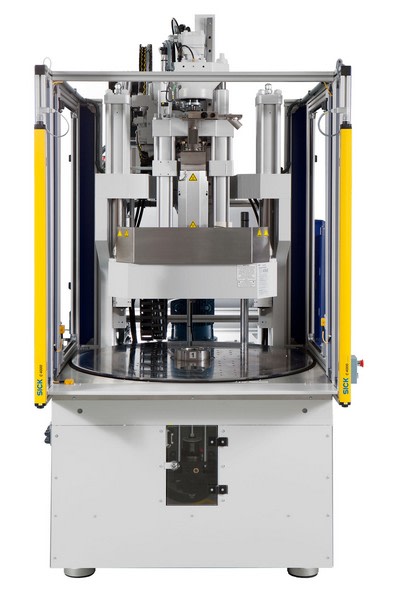 Wittmann 4.0 - for easy entry into the world of INDUSTRIE 4.0
As already mentioned, networking of the machines with peripheral equipment under Wittmann 4.0 will be implemented on all machines and equipment exhibited at the K. Via the new B8 machine control system, the machines as well as the robots and peripherals connected with them can be linked with each other and operated via the uniform Windows user interface. This enables interaction between the individual appliances, and the entire production process becomes optimally coordinated as well as transparent. The Wittmann 4.0 router, developed in-house by Wittmann, contributes substantially to data security throughout the entire system. Only appliances which identify themselves unambiguously to the router by means of a security certificate are granted access to the production cell. The router is integrated in the injection molding machine and linked with the connected peripherals as well as the customer's network. In this way, the Wittmann 4.0 router dispenses with the manual allocation of IP addresses to the individual appliances within a production cell. This enables appliances to be plugged in and disconnected dynamically even while the equipment is in operation according to the principle of "plug & produce". Moreover, this results in some advantages for connections to MES or ERP systems and/or access to the injection molding machine, robot or peripherals by means of OPC UA. Safe exchange of information with condition monitoring systems (CMS), remote control or the Windows-based Web-Service 24/7 from Wittmann Battenfeld is also ensured in this way. Wittmann 4.0 technology opens the door to the world of Industrie 4.0 and makes a vital contribution to cyber security in production plants as well.